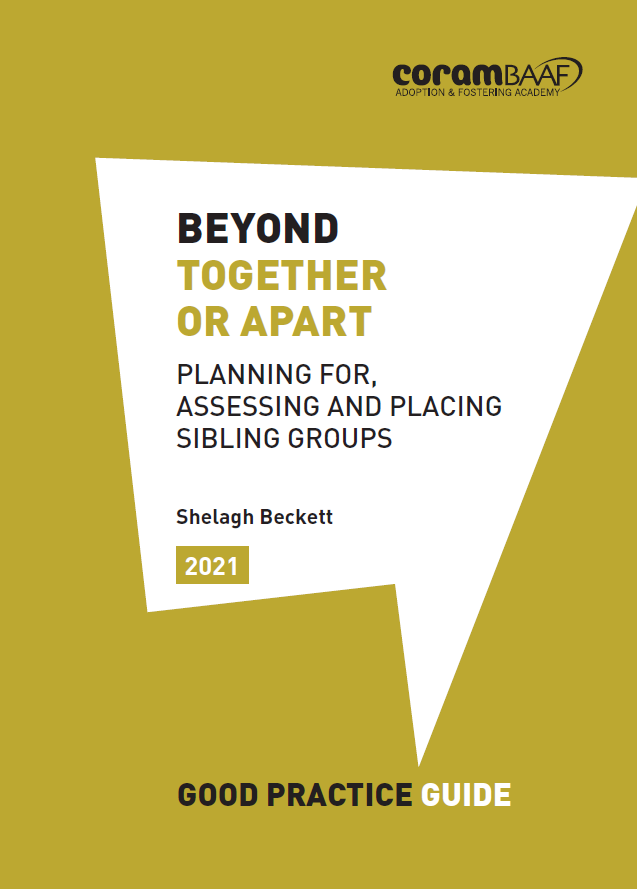 Beyond together or apart - Planning for, assessing and placing sibling groups
Planning for, assessing and placing sibling groups
£17.95
2021 Edition
Brothers and sisters have potentially the longest lasting and one of the closest relationships of their lives with each other – connections that have enormous capacity for shared understanding and warmth, and which are expected to last. But looked after children needing permanence – and approximately 60 per cent of looked after children have siblings – are faced with the real possibility that these connections will be weakened or even severed if they are placed separately.
Children and young people consistently tell us that their relationships with their brothers and sisters are important to them and should be respected. Understandably then, questions about placing siblings "together or apart" weigh heavily on those involved. Too often, decisions are hastily made and driven by resources rather than a consideration of the life-long impact that a potential separation, and the ensuing loss, will have. What are the factors that need to be considered when planning for, assessing and placing sibling groups? How can birth families, social workers and foster carers work collaboratively, taking account of the children's needs and wishes, to contribute to the best plans and placements? And, if brothers and sisters cannot live together, how can they best be supported to maintain their relationships?
Who is this book for?
This book is for children's social workers, family placement workers, social work managers and others.
N.B This book replaces the the previous guide 'Together or apart?'
What you will find in this book
This thought-provoking guide challenges the reader to place at the forefront the importance of sibling relationships and their life-long impact and to plan accordingly...to think beyond together or apart. Drawing on research, practice experience and feedback from adopters, the author discusses:
What helps and hinders children's relationships with their siblings

The importance of early planning and getting it right

What a "sibling-friendly" service could look like

Listening to and involving children

How families can best be prepared and supported to parent sibling groups

How separated siblings can be helped to maintain relationships with brothers and sisters
Packed with information, the guide also includes examples of forms and sample letters that can be used so that information and observations from key sources contribute to the assessment of siblings. The guide is illustrated with case studies and the experiences of children and adopters.
For children's social workers, family placement workers, social work managers and others, this is a "must-have" A–Z of making the best placements for brothers and sisters.
Forms in this book
This book contains a number of forms that are also available as digital files in our bookshop. To order these forms please click on the button below. Once purchased, the forms will be emailed to you as Word documents. Please note, if you have previously purchased the forms please email bookshop@corambaaf.org.uk, quoting your original invoice number, and we will send you the new versions.
The author
Shelagh Beckett gained extensive experience as a practitioner and manager specialising in children's services, adoption and fostering. She works independently providing consultancy to local authorities, the third sector and the media. Shelagh is regularly appointed as an expert witness and also lectures on specialist post graduate and post qualifying child care courses. She has been series consultant to many documentary programmes featuring social work, child protection, fostering and adoption – including various award-winning BBC series. Read our interview with Shelagh here.
NOW AVAILABLE AS AN EBOOK!
This title is now available in digital-only format for immediate access. Purchases are held in your own personalised online library and accessed via your browser or through the app on your phone or tablet.
£17.95
Reviews
I am delighted with this book! As the lead practitioner in my department for overseeing the transitions of children into permanent placements, the content is invaluable. I am promoting its use within my immediate team and across the Communities and Families Department of my local authority. I urge practitioners in all local authorities to do the same and promote good practice that will ultimately promote and maintain sibling relationships as children navigate through their childhood, adolescence and into adulthood.
Kate Richardson, Senior Practitioner, Linkings and Coordinations Family Based Care Children and Families, Edinburgh - published in Adoption & Fostering journal