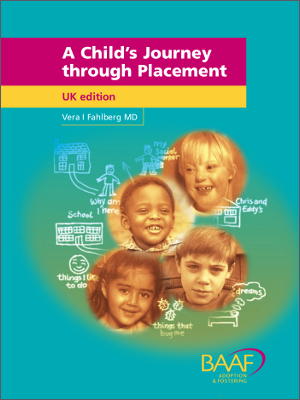 A child's journey through placement
£12.00
NEW LOW PRICE
Separation, loss, grief and change are expected parts of the experience of children in placement. How do those charged with the responsibility of planning for these children address their needs?
Clear, informative and full of practical ideas and case examples, A child's journey through placement has been widely regarded as a 'classic' read for more than 20 years.
This essential reference book - as relevant and insightful today as it was when it was first published - contains the theoretical knowledge base and skills necessary for understanding, working with and planning for children and their families. The author, Dr Vera Fahlberg, builds on her considerable experience and practice wisdom and presents informative and comprehensive sections on attachment, separation, child development and helping children move.
Who is this book for?
This is a recommended text and a must-read for social work students and practitioners working with children and families.
What you will find in this book
The book contains chapters on:
Attachment and bonding
Child development
Separation and loss
Minimising the trauma of moves
Case planning
Behaviour problems
Direct work with children
What people are saying about this book
'This book is a "must" for all childcare practitioners and guardians ad litem. It provides the knowledge base needed for working with children and families and should be compulsory reading on training courses.'
Margaret Adcock, Social work consultant
Author
Vera I Fahlberg MD is a paediatrician and psychotherapist who has worked with children with challenging behaviours and with their families since 1964. Her work has mainly focused on attachment and separation problems, with special emphasis on children in the care system.
Reviews
Great book to provide practitioners and students with insight into both attachment and development processes...couldn't ask for more.
Patrick Gavin, five stars, Amazon.co.uk
An essential guide for anyone in social work...well thought out and easy to read.
Oliver Harding-Edgar, five stars, Amazon.co.uk
I recommend this to all students and newly qualified social workers.
Tanya, five stars, Amazon.co.uk
A great book. Very informative and readable with a lot of common sense written – and certainly not just for social workers. Teachers and other professionals as well as parents would find this a really useful read. Worth every penny!
Myichy, five stars, Amazon.co.uk