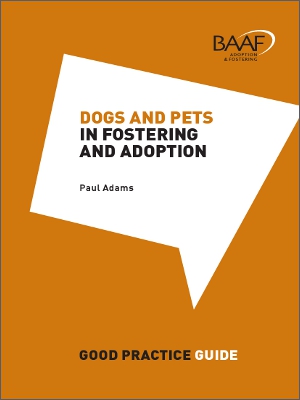 Dogs and pets in fostering and adoption
£9.95
What are the issues to be considered when foster carers and adopters have pets? How can workers, parents and carers help to ensure children's safety around animals? What points need to be considered in a pet assessment to help ensure a successful, safe placement for the child and the family?
This Good Practice Guide has been developed alongside assessment forms for dogs and other pets, and provides advice on completing these forms, with samples included for guidance. It will be helpful in assisting fostering services and adoption agencies to develop carefully considered, logical and proportionate policies in relation to dogs and other pets.
Who is this book for?
Social workers, foster carers, adopters, panel members and policy-makers.
What you will find in this book
The guide provides a wide range of information and essential practical advice including:
information about dogs and the law, and the relevance of breed
the advantages and disadvantages of dog ownership for foster carers and adopters
how to successfully undertake a dog assessment, including how to judge when a further specialist assessment is required
how to help ensure that children and animals can both live safely together
points to consider in matching, introductions and throughout placement
general principles and specific considerations regarding other pets, including cats, horses, birds and reptiles
Author
Paul Adams is a Foster Care Development Consultant for CoramBAAF.