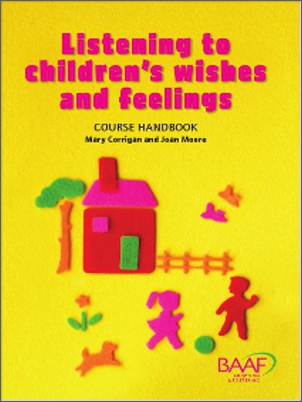 Listening to children's wishes and feelings - course handbook
£10.00
Over recent years, there has been a sustained emphasis on the need to listen to children's views, wishes and feelings when planning services and making decisions about their futures. Feeling understood and having their views taken seriously is particularly important for children who have experienced loss and transition, and can help to build identity and resilience.
The Listening to children's wishes and feelings training course will equip participants with a range of techniques for effective listening to and communication with children. It enables workers and carers to work effectively with children to process difficult experiences; use reflective listening skills and assessment techniques; assist children in processing and recording their life history; and support them as they prepare to move to permanence. This course handbook is designed for course participants to work through and take with them after the course.
Who is this book for?
An invaluable resource for social workers, adoptive parents and foster carers, and all those who are doing direct work with children to help them feel heard and to build resilience and identity.
What you will find in this book
This resource, designed to be undertaken over four days or four sessions, can be delivered as a whole or in modular form. It consists of a training programme, complete with CD-ROM of PowerPoint presentations and handouts, and a course handbook for participants, which comes with a Techniques CD-ROM containing over 80 strategies, activities and techniques that can be used in direct work.
The course will enable participants to:
better understand how a child's attachment and development are affected by loss, trauma and/or a disrupted childhood
learn about ways in which children communicate their wishes and feelings through action, behaviour and play
help children deal with loss, express their emotional needs and manage strong feelings
use reflective listening skills and assessment techniques with children to identify their needs, wishes and feelings
work with children to process difficult past experiences, so as to develop a sense of identity
assist children in processing and recording their life history so they can repair and build resilience
support children as they prepare to move to permanence
Authors
Mary Corrigan is an independent social worker, child care consultant, play therapist and trainer for several London boroughs and voluntary agencies. Since 1975, she has specialised in working with children and families in transition, helping them to understand what is happening to them and supporting them to form new attachments when their placement becomes permanent. She teaches the attachment-trauma-loss interface, the development of self and the direct work/life story sequence on the Post Graduate Diploma in Advanced Social Work, Children and Families MA at Kingston University, Royal Holloway University, Bedford Square, and Brunel University. She supervises play therapists and runs direct work skills supervision groups for social workers.
Joan Moore is a dramatherapist, play therapist and adoption support agency, with a background in social work. She provides therapy to children and families in adoption and foster care, expert witness statements, supervision for creative arts therapists, and teaching on direct work for local authorities and related agencies. She has published widely in this field.
Reviews
I am delighted to recommend this course. Its publication is timely and its content is excellent.
Margaret Adcock
I fear I cannot do this amazing programme justice in just a few words. It's so comprehensive, compact and well put together that I feel I could run a training programme tomorrow with it. It really tells you everything you would need and want to know about facilitating this five day training programme.
Sussan Eglund, Journal of Drama Therapy 34:3
Mary Corrigan is fantastic I have been on Mary Corrigan's courses many times as a professional and alongside her in running them for adoptive parents. Her work and her material is fantastic. A must for any adoptive parent who is struggling to help their child understand their life and manage their behaviour. Get on one of her courses before she retires but if you can't do that – BUY THIS BOOK. Use the examples to play with your child – learn to be playful, accepting, curious and empathic.
M Ellis, five stars, Amazon.co.uk