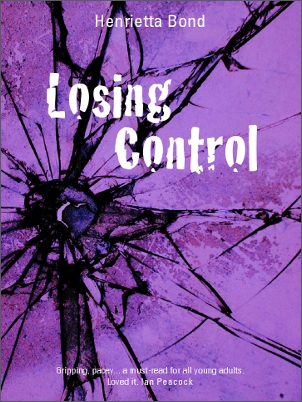 Losing control
£8.95
After leaving care, Holly just wants to concentrate on being a student. So why do all the men she knows want to make her life so complicated?
Whether it's her little brother, Ryan, threatened by Facebook bullies, a "rock star" boyfriend who is attracting way too much interest from the girls, an employer who thinks anyone in care is a criminal, or arrogant Spider Boy, who fascinates as much as he repels her, there's plenty of hassle to keep Holly on her toes. No wonder she feels her life is spiralling out of control!
This is the second in the Control freak trilogy of young adult novels about Holly Richards, a young care leaver. This sequel to Control freak, aimed at those over the age of 13, is fast-paced, entertaining and moving – all the way through to the sudden, shocking ending.
Who is this book for?
This novel for young people is intended for those over the age of 13.
Author
Henrietta Bond is a freelance journalist and media consultant specialising in children and family issues. She has worked with CoramBAAF, Barnardo's, Fostering Network, The Who Cares? Trust, A National Voice and many other children and young people's organisations, and local authorities, as well as writing for several national newspapers.
Reviews
Another winner from a great author. When I read Henrietta Bond's first book about Holly Richards and her friends and 'family' I was blown away by the freshness and emotional depth of the writing and the story. I didn't think it could get any better, but it has. This follow-up story is even more dramatic, darker and packed full of tension from the very first page. Holly likes to be in control, but she can't control all the people and events around her, and as the book moves on troubles and worries mount until a sudden, shocking ending. This is a very moving book, and a great story that rolls along at a great pace. It also manages to pack in a great deal of information about care-leavers, fostering, adoption and related issues – but not at all in a preachy way. I can't recommend it enough.
L Turney, five stars, Amazon.co.uk
More fabulousness from Henrietta Bond. More from the fabulous Henrietta Bond on the lives of Holly, her friends and family. Smashing myths about care leavers and young people still within the care system by showing us their reality. Highly engaging and entertaining, this book doesn't pull its punches. A must-read for any teen leaving home, and parents and carers too, any young person with experience of the care system will recognise facets of their lives here.
Mica May, five stars, Amazon.co.uk
The much awaited for follow in from Control Freak. A highly recommended novel for teens. Whether they're affected by foster care or not, this is an enjoyable read for any young adult. Fast-paced, entertaining and moving, it gives an honest look at the options when leaving care. Definitely worth a read.
Foster Families Magazine
This book is written for and to be read by young people over the age of thirteen. The language is very current, which makes it relevant to the younger generation. The main aspect that is in its favour is the 'thinking out loud' strategy which allows the reader to keep up with the thoughts and subsequent actions of the lead characters. Nothing is overly stated but the tension leading to the conclusion is palpable. I hope young people take the time to read this especially if they have been involved in or are currently in the care system.
Children Webmag, The Centre for Children and Youth, University of Northampton, UK