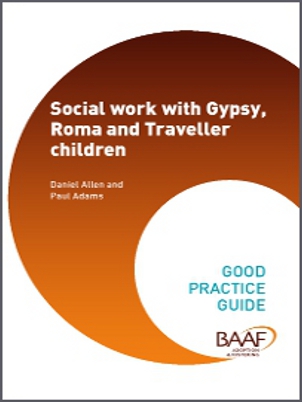 Social work with Gypsy, Roma and Traveller children
£9.95
Social work with Gypsy, Roma and Traveller children and families has received scant attention, for a variety of reasons, including long-term historical and societal factors. Consequently, the needs of Gypsy, Roma and Traveller children in the care system have largely been overlooked.
In this complex area of social work, how can practitioners work effectively and constructively with these communities? How can we better understand Gypsy, Roma and Traveller cultures and traditions, and develop culturally competent practice to inform work with these groups? How can we improve the outcomes for looked after children from these families, and help foster carers and adopters to provide the best placements for them?
This Good Practice addresses these and many more questions and will be of immense help to all those working with Gypsy, Roma and Traveller communities and looked after children.
Who is this book for?
Children's social workers, adoption and fostering practitioners, Children's Guardians and Independent Reviewing Officers.
What you will find in this book
The guide explores:
Gypsy, Roma and Traveller communities, their ethnicities, cultures and traditions
the legal context and implications for Gypsy, Roma and Traveller children in care
the social policy context, including issues surrounding accommodation, education, health and criminal justice
culturally competent and antidiscriminatory casework, including the practicalities of engaging with Gypsy, Roma and Traveller families
Gypsy, Roma and Traveller children's experiences of the care system
how to support Gypsy, Roma and Traveller children to have positive views of themselves and to be proud of their identity and heritage
placement issues, including the assessment and support of family, friends, foster carers and adopters
Authors
Daniel Allen is a senior social work lecturer at Edge Hill University within the Faculty of Health and Social Care.
Paul Adams is a Foster Care Development Consultant for CoramBAAF.
Reviews
Allen and Adams have produced a timely addition to specialist practice literature…its real strength rests on its reasoned proposals for reflexive, context-driven practice and procedures…this guide is marked by its willingness to roll its sleeves up and offer considered and creative guidance for practice, as well as compelling suggestions for specialist procedural frameworks.
Jamie O' Donnell, Social Worker, Glasgow City Council, Practice: Social Work in Action
The wide coverage in this guide makes it a 'must have' for those working in social care. It enables the reader to gain a real insight into the experiences of Gypsy, Roma and Traveller children and young people.
Hilary Schultess-Young, independent social worker, Professional Social Work