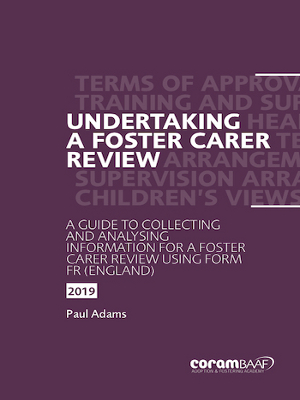 Undertaking a foster carer review 2019 edition
£10.95
This guide is designed to help social workers to plan and carry out a comprehensive and evidence-based review of foster carers. It is to be used by supervising social workers to complete a Foster Carer Review using the CoramBAAF Form FR (England).
This guide explores the legal framework behind foster carer reviews and offers advice on how to conduct the review process, looking at actions that agencies should take before, during and after a foster carer review meeting. Each part of Form FR is considered, with information on how best to use each section, along with an exploration of practice issues that should be taken into account by supervising workers. Separate chapters look at good practice principles when reviewing foster carers' health, and achieving the Training, Support and Development Standards.
Who is this book for?
All those undertaking foster carer reviews. The guide will be of particular use to those who are new to the task.
What you will find in this book
Logically structured and very accessibly presented, this guide:
assists the supervising social worker in collecting the information necessary to complete a comprehensive Form FR review
considers best practice in working with foster carers, children and young people, and others throughout the review process
prompts the worker to analyse the informant they have collected with regard to its significance and importance.
Author
Paul Adams is Fostering Development Consultant, CoramBAAF.
A 10% bulk order discount will be applied at the checkout for orders of 10 copies or more on this title.