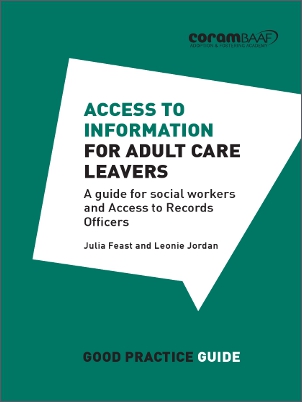 Access to information for adult care leavers
This title is currently being updated. If you would like an email alert to let you know when it is available, please email pubs.sales@corambaaf.org.uk, with the title 'When will Access to Information be reprinted?'.
Agencies in the UK receive hundreds of enquiries each year from adult care leavers wishing to access records related to their time in care. Their need to receive this information, and its significance, should not be underestimated. Such information can explain why an individual came into care and the decisions that were made about them – having a greater understanding of their family background can help the adult care leaver to make sense of their identity and history.
The Data Protection Act 1998 (DPA) provides the legislative framework in the UK for access to information from child care records. However, findings from research reveal considerable discrepancies in agency practice regarding how such requests are handled, and the way in which the DPA is interpreted. There is also a lack of a common understanding as to what and how much data, particularly third-party information, it is reasonable to share.
This Good Practice Guide aims to set out a protocol for dealing with Subject Access Requests (SARs) in order to improve services for adult care leavers and establish greater consistency and quality practice across organisations.
Who is this book for?
Access to Records Officers (AROs) and social workers in the UK who are providing access to records and related services for adult care leavers.
What you will find in this book
The guide includes:
an overview of the legislative framework;
detailed guidance on providing the best possible service;
issues and dilemmas related to sharing information;
case examples;
tracing and intermediary services;
a glossary of terms and appendices including sample letters and forms, useful organisations and further reading
Authors
Julia Feast was a Policy, Research and Development Consultant at CoramBAAF. She now works freelance.
Leonie Jordan is a Legal Consultant with CoramBAAF's Policy, Research and Development Team.
Appendices from the book, comprising a selection of useful template letters and proformas, can be accessed by clicking on the download button.
Sorry, but this product is currently out of stock.
Reviews
This important guide supports professionals to do the best they can to help the thousands of people who, every year, seek answers to questions that have lingered for a lifetime.
Baroness Lola Young, OBE
This guide will be invaluable for Access to Records Officers and social workers in the UK and will enable them to be more knowledgeable, confident and resourceful when providing access to records and related services for post-care adults…Agencies, workers, post-care adults and their relatives will all find useful information here, and support for their endeavours.
Patricia Lowe, Adoption Today