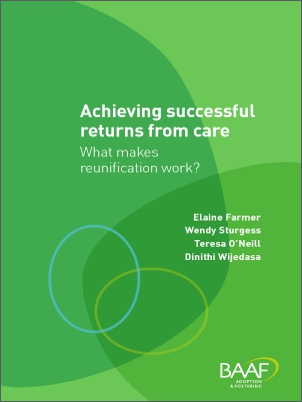 Achieving successful returns from care PDF ONLY
£12.50
Reunification has been little studied in the UK but given its place in care planning for looked after children, it certainly deserves greater attention. There is a real need for up-to-date information to enable local authorities to make informed decisions about when to return children to their parents, and what kinds of services and case management will increase the chances of success. This important and timely study focuses on 180 children, aged 0-14, who were all returned home from care in six local authorities in England.
It follows the patterns and outcomes of return home; which factors are associated with successful and unsuccessful returns; and the families' views on returns. The results of the study provide important conclusions for policy and practice. 
Who is this book for?
This book will be valuable for all social workers and managers involved in planning or implementing returns home for children in care, along with policy makers in this field. 
What you will find in this book
The study aims to:
• Examine the patterns and outcomes of return home through a two-year follow-up of the sample;
• Investigate which factors are associated with successful and unsuccessful returns;
• Explore through in-depth interviews with children and parents their own experiences of successful and unsuccessful returns, including repeated failed reunification.
The findings suggest that appropriate assessment, preparation and service are linked to returns succeeding. Lack of appropriate intervention, on the other hand, has far-reaching consequences for children's future well-being and stability. What is needed, the study argues, is a "refocus" of attention onto reunification in order to improve children's outcomes.
This book is out of print. It can be downloaded free by CoramBAAF members from the members' area of the website. The pdf file can be purchased by non-members.
Reviews
The researchers' analysis and qualitative discussion of the various children and their families is relevant to practitioners, however worthy to note that the style of the book is such that there is much statistical analysis and commentary on methodology…[Chapters 1 and 2] may be overly detailed for busy practitioners, particularly those without a background in research methodology…The overall message of the research is relevant for all practitioners working with children and families and for practitioners who work with children looked after or children who may become looked after. For practitioners, the research has implications for the planning and support offered to children returning to their family's care.
Ceri Owens, Social Worker, Child Protection, North West England, Child & Family Social Care