Primary tabs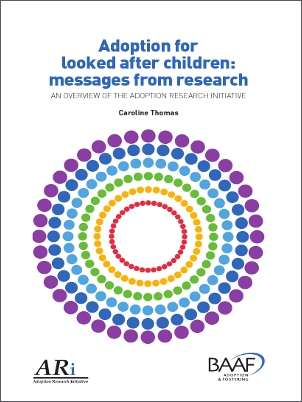 Adoption for looked after children: messages from research PDF ONLY
£18.30
The Adoption Research Initiative was a Government-funded programme to explore the effects of the Adoption and Children Act 2002. Seven large and complex studies considered a range of areas, including adoption, disruption, long-term fostering, and matching practices. This summary brings together and analyses the results of all seven studies. 
Four themes emerged from the studies: permanence, finding a family, adoption support, and contact. The results of the studies, and analysis by this report, sum up the knowledge gained by the research work. 
Who is this book for?
This summary is a valuable resource for all those involved in adoption and fostering - practitioners, managers and policy makers. 
What you will find in this book
This overview:
Brings together the key findings from the research initiative
Provides a body of evidence from which we can learn about the effects of earlier attempts to develop an adoption system best suited to the adoption of looked after children
Highlights some of the problems that have endured within the adoption system as it has continued to evolve, but also describes the significant progress that has been made. 
The author
Caroline Thomas co-ordinated the Adoption Research Initiative in her role as Academic Adviser to the Department for Education. Caroline is an Honorary Senior Research Fellow at the University of Stirling.
This book is out of print. It can be downloaded free by CoramBAAF members from the members' area of the website. The pdf file can be purchased by non-members.