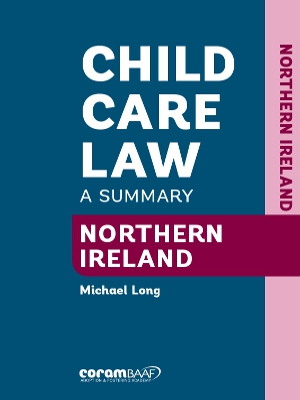 Child care law Northern Ireland
A summary of the law in Northern Ireland
£9.95
This quick reference guide presents a useful overview and accessible summary of the main legal provisions and principles affecting the law relating to child care in Northern Ireland. It contains sections on:
Sources of law
Human rights
Jurisdiction
Principles applying to all Children Order cases
Hearing the voice of the child
Parental responsibility
The child at home
General duties of Health and Social Care Trusts
Private law orders
The child in care
Adoption
This updated second edition is an invaluable guide for social work professionals, children's workers and carers, students, and all those interested in child care law who need to be able to check facts about the law quickly and easily.
Reviews
Many child law books do not cover Northern Ireland law in detail and therefore this book fills a very useful space for practitioners who work in this area or who need to refer cases to this jurisdiction. The book is a useful reference work for the bookshelf, and provides information for trainees and for resource materials.
Dr Barbara Mitchels, solicitor and therapist, Seen and Heard 24: 3
The book is comprehensive in the identification of major legal areas required for every day practice and study. The style of writing and format of the text ensure complex legal concepts are accessible to readers at all levels while providing additional references, case law and further reading…I would highly recommend this book.
Michael Hoy, Head of Children's Residential Care / Agency Decision Maker, Southern Health & Social Care Trust, Northern Ireland, Practice 26: 5