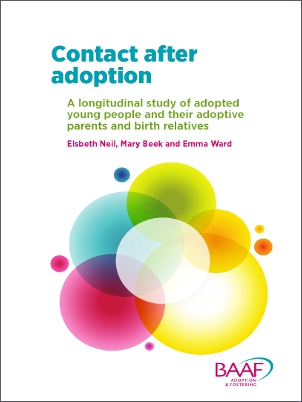 Contact after adoption summary
£8.95
Decisions about contact between an adopted child and their birth family are an essential part of the child's placement plan and need to take into account the child's welfare. It is therefore essential to understand how contact affects adopted children throughout their lives. Research has found that the impact and quality of contact can vary widely. Sometimes it is wanted and valued by children. In other cases it can have an unsettling and disturbing effect. Very little research has included the views of older children and adolescents.
This short book summarises the findings of the study, Contact after adoption - a longitudinal study that followed up a group of adopted children, their adoptive parents and birth relatives, where some form of post-adoption contact was planned. The findings are of particular importance due to the study's duration – the children, all placed under the age of four, have been followed through preschool, middle childhood and into later adolescence.
The key aims of the study were to explore people's experiences of contact and its impact on children and adults. A strong body of evidence has been collected about the impact of open adoption on all those involved, and on how children's experiences of and need for contact change as they grow and develop.
Contact after adoption makes an important contribution to the existing research on contact and offers invaluable practice recommendations.
Who is this book for?
All those involved in making or managing contact with children and families.
What you will find in this book
A summary of the findings from the previous two stages of the Contact after Adoption study
The adopted young people: how were they getting on in adolescence
The adoptive families: a snapshot of current contact
The adoptive families: contact pathways over time and evaluations of contact by adoptive parents and young people
The satisfaction of young people with their contact arrangements
The adoptive families: adoption communication openness
Being adopted: well-being and adjustment to the adoption, 16 years on
The birth relatives: contact pathways and experiences
Social networking: new challenges for adoptive parents, birth relatives and adopted young people
Suggestions about contact planning and support made by adopted young people, adoptive parents and birth relatives
Authors
Elsbeth Neil is a Senior Lecturer in Social Work and Director of Research in the School of Social Work at the University of East Anglia. Elsbeth began this study in 1996 and has directed all three stages.
Mary Beek is a registered social worker and a professional adviser for Care for Children, where she facilitates the training of foster carers for children in the Far East. For many years, she has combined practice with research and writing.
Emma Ward, after completing her PhD in Social Work, has worked as a researcher on a wide range of projects at the University of East Anglia.