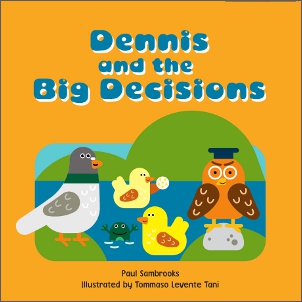 Dennis and the big decisions
£6.95
In the second book in the Dennis series, Dennis and his sister are being looked after by a duck foster family after they had to leave their mum and dad. But they miss their parents and want to know if they would ever go home, and who would look after them as they were growing up. What was going to be best for Dennis and his little sister? Where would they live, and who would look after them? There were big decisions to be made…
Through Dennis' story, this colourful picture book explains about the idea of decisions being made about children's futures – what decisions need to be considered, and who will make them. The emphasis is on explaining that children's views are very important, but that it is adults who will take the decisions and make sure that they are safe. The simple text and open story ensures that Dennis and the big decisions is a flexible resource that can be used with children in a range of settings and circumstances.
Who is this book for?
This book is ideal for very young children (aged 2–5 years old) who are being looked after by foster carers, and where decisions about their future are being or are likely to be made.
What you will find in this book
Through Dennis' story, this colourful picture book explores how and why decisions are made about children's futures.
The book also contains a booklet with brief guidelines and worksheets which are intended to aid and facilitate discussion and to help children express their thoughts and feelings about transitions.
Author
Paul Sambrooks is a qualified social worker. The Dennis Duckling character was originally created by Barbara Orritt in 1981. Paul revised the story to create this new edition.
Illustrator
Tommaso Levente Tani is a Tuscan book illustrator and author.
Reviews
This book covered the aspects of making decisions about the future in a well presented way. Very useful and allows the child to recognise the professionals involved and associate them with the birds that are involved in making the big decisions in [Dennis's] care proceedings.
Mrs Anne V Holdsworth, five stars, Amazon.co.uk
What a brilliant book. Has helped my 5-year-old really understand this long complicated process she is going through.
Five stars, Amazon.co.uk