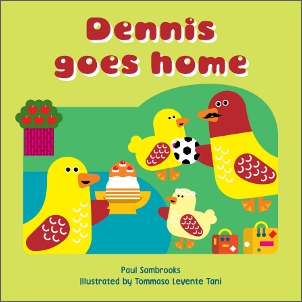 Dennis goes home
£6.95
The Dennis Duckling series of picture books provides a range of opportunities to talk to looked after children about what is happening in their lives. In the first two books, Dennis and his little sister have to leave their parents and be looked after by a foster duck family. In this third book, it is decided that the ducklings will return home to their parents.
Dennis misses his mum and dad, but when it is decided that the ducklings will return home, he is worried. Will his parents be able to look after him and his sister properly? Will they be helped to do this? What will happen when they move back home?
Through Dennis' story, this colourful picture book explains about what may happen to a child in this situation. Over time, Dennis's parents are given help to learn about looking after children, the ducklings visit and have sleepovers, and are reassured that their social workers would continue to visit them and talk to them to make sure they were safe and being looked after well. The simple text and open story ensures that Dennis goes Home is a flexible resource that can be used with children in a range of settings and circumstances.
Who is this book for?
This book is ideal for very young children (aged 2–5 years old) who are being looked after, and who are, or are expected to be, looked after by relatives.
What you will find in this book
The book contains a booklet with brief guidelines and worksheets which are intended to aid and facilitate discussion and to help children express their thoughts and feelings about transitions.
Author
Paul Sambrooks is a qualified social worker. The Dennis Duckling character was originally created by Barbara Orritt in 1981. Paul revised the story to create this new edition.
Illustrator
Tommaso Levente Tani is a Tuscan book illustrator and author.
Reviews
The illustrator of this series is very good at bright colours and patterns that children will respond to positively, and both text and pictures are practical and non-emotional, which will be best for children experiencing these life-changing situations.
helathybooks.co.uk