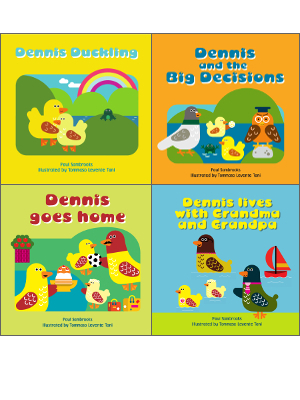 Dennis duckling - the complete series
£26.80
£20.00
Buy all four books in the Dennis duckling series for just £20!
Click on the individual titles to find out more about the books in the series.
This title will be helpful to explain to young children why they may be leaving their families to be looked after in foster care. Dennis is sad when he has to leave his parents, but is reassured by the grown-up ducks with whom he goes to live.
This book explores how decisions are made about children in foster care and with whom they are to live. The range of adults involved is explained, including social workers, carers, judges and birth parents. The story emphasises how they all want to make the right decision for Dennis.
This book will be helpful for children returning home after spending time in foster care. The story emphasises the importance of parents learning how to care for their children, that children will now be safe at home, and that it is OK to be sad at saying goodbye to foster carers.
Dennis lives with Grandma and Grandpa
This book will help very young children who live, or are going to live, with family or friends, to understand what has happened, why they can no longer live with their parents, and to express their feelings about this.