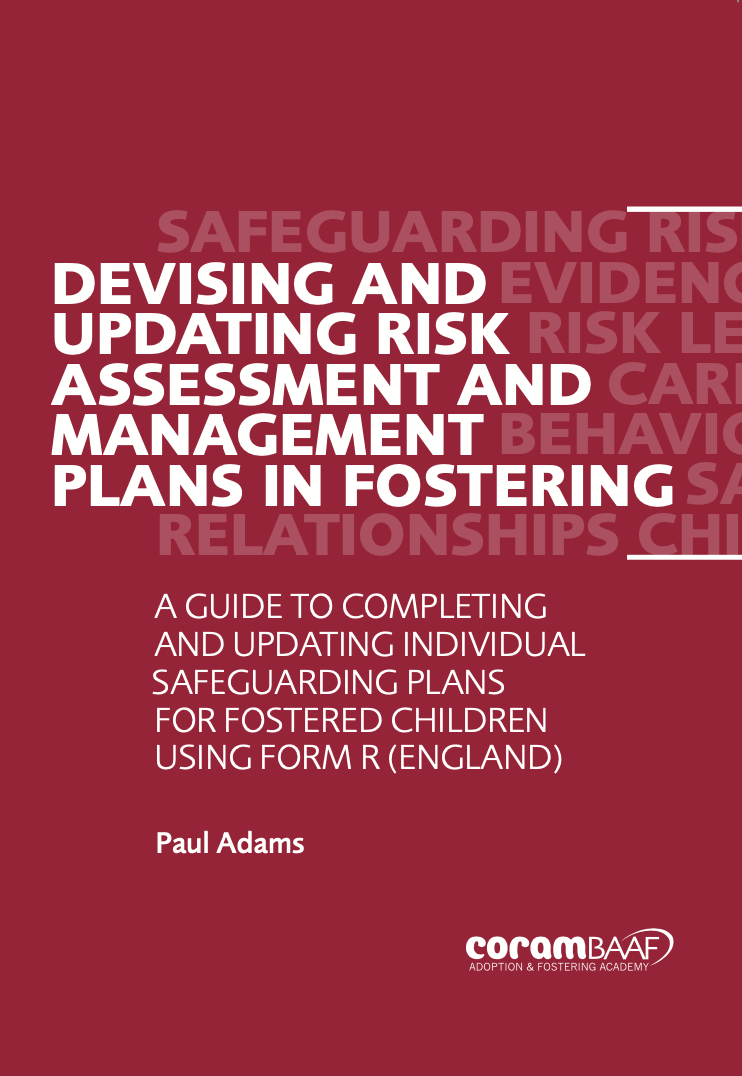 Devising and updating risk assessment and management plans in fostering
£10.95
Assessing and managing risk is an essential part of ensuring that children in foster care are kept as safe as possible, and is central to the statutory framework and to Ofsted inspection. This practical guide, in association with CoramBAAF's Form R, is designed to help social workers and foster carers to complete and update individual safeguarding plans for fostered children in England. 
Who is this book for?
This guide will be invaluable for all social workers and foster carers involved in risk assessment and management planning for fostered children. 
What you will find in this book
This guide helps practitioners to consider safety, safer caring and assessing risk, with information on what the guidance, regulations and Ofsted inspection process demand in this area. It provides details of Form R (England) and sets out details of how and when it should be used in a context of risk assessment and management. The form and associated guide list common risks to a fostered child, helpfully organised into four sections: self-directed behaviour; risks from known others; risks from unknown others; and risks that the child may pose to others. Trigger questions for workers and carers will promote discussion and awareness of the different risk areas. 
Logically structured and very accessibly presented, this guide: 
provides clear explanation of the concept of risk assessment and management, for social workers and foster carers; 
sets out the range of common risks to be considered, including going missing; self-harm; mental health; drug and alcohol use; bullying; gangs and county lines; sexual exploitation; risks from birth family members; property damage; fire setting; and making allegations, with explanatory information about each of these; 
prompts the social worker and foster carer to explore, discuss and analyse different areas of risk in a child's life, their likelihood, severity and possible actions to take.
Lists of further resources direct readers to reliable sources of information if issues need to be further explored. 
The author
Paul Adams is a Foster Care Development Consultant for CoramBAAF.