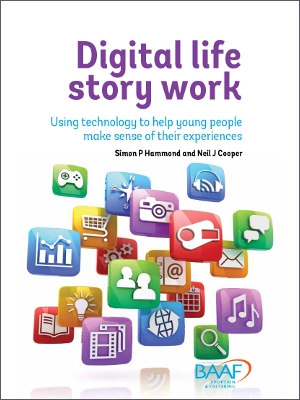 Digital life story work
£16.95
This innovative guide brings the benefits of life story work – traditionally undertaken with younger children – to young people and adolescents. Digital life story work charts new territory through the use of computers, free software, smartphones and camcorders in a range of contemporary and exciting ways.
While the products created by this technology may be videos or photo collages, rather than traditional life story books, the therapeutic process of building a relationship with a supportive adult while reflecting on their lives will be immensely important for the young person's self-esteem and identity.
Who is this book for?
All those working with or looking after young people who cannot live with their birth families, including social workers, residential workers, therapists, counsellors, foster carers and adopters.
What you will find in this book
With an intensely practical approach, the guide takes the reader through the process of using digital technologies to carry out life story work. It outlines a series of fun and engaging projects on which the practitioner and young person can work together, including photo collages, making soundtracks, creating cartoons, and filming guided walks.
Clear step-by-step instructions are provided, with information and advice for those unfamiliar with the technology.
The book also covers:
Why life story work is so important and what can be achieved
How to work successfully with young people, including negotiating  expectations, setting boundaries and managing risks
Points to consider when setting up and undertaking a project
How to prepare and edit visual and audio material to produce something the young person can be proud of
Authors
Dr Simon P Hammond is a Lecturer in Psychology. He developed the idea of creating adolescent specific digital life story work approaches in 2005 when he was a residential worker in Sheffield.
Dr Neil J Cooper is a Senior Lecturer in Psychology.
Reviews
The guide is distinctive in its origins. It draws upon, and has developed out of, doctoral research undertaken at the University of East Anglia. The case study examples and the quotes of young people and carers that populate the discussion here are drawn from that research project. Guides are appreciated, especially by novice practitioners, and this one is well constructed and presented.
Barry Luckock, University of Sussex, Child & Family Social Work
The book offers much more than I expected and with this being such a current issue it's nice to see a new perspective on such a hot topic. This book draws on some interesting case studies so is more insightful than other similar books on the market as it's not just based on the author's opinion. I would definitely recommend this book to friends and colleagues interested in this field. Must read.
Matthew Davenport, five stars, Amazon.co.uk