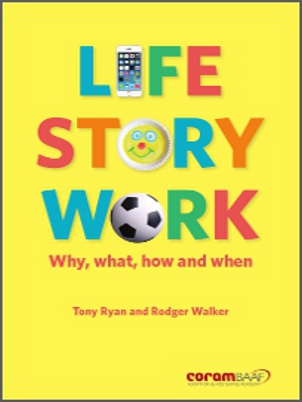 Life story work
£16.95
Children separated from their birth families are often denied the opportunity to know about their past and to clarify past events in terms of the present. They may have changed families, social workers, homes and neighbourhoods. Their past may be lost, much of it even forgotten.
Losing track of the past can make it difficult for children to develop emotionally and socially. Life story work is an attempt to give back some of this past. This guide provides a rich and creative treasure trove of techniques and exercises for adults working with children in different settings.
Life story work lays the foundations of approaching life story work with children and introduces the whys, whats, hows and whens of doing it. Case studies are used throughout to bring the material to life.
Who is this book for?
Social workers, adoptive parents and foster carers, residential staff, teachers and nursery nurses wanting to use life story work as a way of helping children.
What you will find in this book
The book explores when to start life story work, how to communicate with children and help them talk about their feelings, how to work with particular groups of children, e.g. disabled children or those who have been sexually abused, and how to use life story work in different settings.
This edition includes contributions on digital life story work with children and adolescents, and using life story work in rehabilitation situations and where unmediated contact has taken place via social media.
Authors
Tony Ryan worked as the Adoption Team Manager for Catholic Care, Diocese of Leeds and the Principal Fostering and Adoption Officer for Leeds City Council. He is now retired.
Rodger Walker formerly managed the fostering and adoption services for Leeds City Council. Now semi-retired, he provides training and support in life story work for an independent fostering agency.
Reviews
Having run life story work training for a number of years, I eagerly awaited the sixth edition of this classic text. It lives up to expectations…This is a well thought-out text you can read from cover to cover, or dip into. There are useful case examples throughout, and many different techniques, tools and exemplars. From new social workers/carers to experienced practitioners, there is wisdom to be gained by all…I highly recommend this to social workers, foster carers and adopters. This is the book to read if you want to know the why, what, how and when of life story work, and a lot more besides about communicating successfully with children and teenagers.
Jill Seeney, Senior Supervising Social Worker (Fostering), Trainer, Writer, Professional Social Work Sep 2016