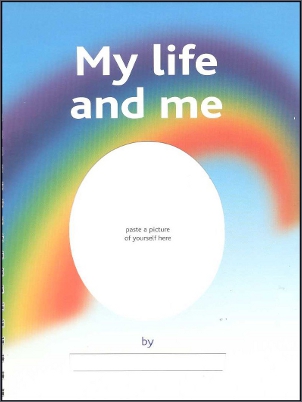 My life and me
£18.00
For children separated from their birth families, life story work is one way of filling in the gaps about their lives and gives children a structured and understandable way of talking about themselves.
My life and me provides a much-needed template to help children who no longer live with their family of origin to develop and record an accurate knowledge of their past and their family. Once completed, the book will provide them with a permanent record which they – and with their permission, the adults caring for them – can refer to at any time and which the child can carry with them through life.
Who is this book for?
Looked after children undertaking life story work or direct work with their social workers, foster carers or adoptive parents.
The workbook can be used flexibly by any child, including children with special needs and children adopted from abroad.
What you will find in this book
Colour-coded sections include space for drawings, photographs, documents and a record of feelings and thoughts at various stages in the child's life.
My life and me starts with 'A photograph of me'. It is then divided into sections including:
Things I know about myself
My health
My birth family
Contact with my birth parents
Special memories
My schools
My disability
The country where I was born
A separate booklet with practice guidelines will help social workers, foster carers, adoptive parents and others undertaking direct work with children to understand the background and significance of completing the various sections of the book.
Author
Jean Camis has many years' experience of working in children and family services. She developed this book with the hope that it will help separated children to make their lives more complete by having a strong sense of themselves and establishing the foundation for new beginnings.
Reviews
This book is a must have for anyone who would like to complete a Life Story Book for a child, particularly where they have been unable to live with a parent or family member. It covers every subject of a child's life and includes all milestones of their development. Areas included are health, education, family, feelings, social life and where they are currently living. It is easy to understand and the layout is simplistic and yet pleasing to the eye. Highly recommended.
Mrs D. Harston, five stars, Amazon.co.uk
The book is colourful, well-illustrated and appealing. It covers the whole spectrum of a child's life, The sections are well thought out and fun to fill in. As well as dealing with the past and present, there is a section for the future – the child's hopes, dreams, fears feelings - which finishes the book in a very positive, thoughtful way. Once started and with the help of a carer, I am sure My Life and Me will become very important and helpful to any child and a useful tool for carers, parents and social services. I feel this book will be a very positive experience for a child from any background and a book they will revisit many times from childhood through adulthood.
Belinda May, foster carer, Foster Care magazine Issue 109