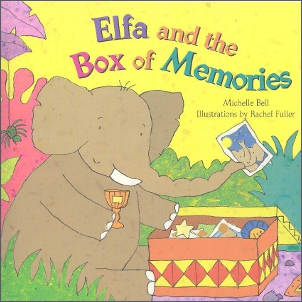 Elfa and the box of memories
£9.95
SPECIAL OFFER - Buy this book together with A safe place for Rufus and Morris and the bundle of worries for just £20. Find out more.
Memories can be good and bad, happy and sad; those we want to keep alive and others we would rather forget. Looked after children may have more difficult memories that most, because of separation and loss and traumatic events that may have taken place.
In this charming picture book, Elfa the elephant discovers that sharing her memories and remembering the good things that happened is more helpful than keeping them locked away.
The book reinforces the importance of memories and the part they play in making us who we are. Adults can use this story as an aid to doing life story work with young children, to help them remember the good times and also the bad, thus helping them deal with troubled pasts.
Who is this book for?
Young children aged three and above, especially those who are adopted or placed in foster care.
What you will find in this book
Elfa goes through life carrying a big, heavy box on her back. Inside it, she keeps her most precious things – her memories. One day, while playing with a group of warthogs, a ball comes whizzing past and hits the box on Elfa's back. Elfa starts to shout and angrily stamps her feet.
Just then, Marvin the monkey swings down from the top of a tree, and asks what's wrong. Elfa tells Marvin how cross she is that nobody has ever asked her about the big box on her back, and that it is full of her most precious memories, and sometimes she just wants to talk about them with someone else. And so they open her box to have a look at her memories. But suddenly, Elfa notices that some memories have just faded away. Elfa is tearful, and wonders what she is going to do. And so begins a journey to find the missing memories by revisiting significant places and people and remember the important things from her past.
A booklet called My book of memories is included at the back of the book, for children to draw and write the things they remember.
Extra copies of My book of memories are available to purchase for just £1.00.
Author
Michelle Bell is the Marketing Manager for CoramBAAF.
Illustrator
Rachel Fuller specialises in children's books, developing and illustrating novelty packages as well as young fiction and educational materials. She has illustrated several books for CoramBAAF including A safe place for Rufus, Morris and the bundle of worries and Spark learns to fly.
Reviews
This is a lovely book with colourful illustrations and was a joy to read with my five-year-old. The book helped to uncover some very emotional memories, and best of all, taught my son how to deal with the memories that he didn't like, and to enjoy the ones that he did. The illustrations in this book are wonderfully bright and they really helped to keep our attention throughout the story. This is a beautifully written book, which while being extremely functional, is an absolute joy to read.
Fiona Hawkins (mother of two), Adoption Today
One of the best ways to help a child understand why they are feeling certain emotions or behaving in a certain way and what the people around them may see and feel too. A great tool to start talking to them about their thoughts and feelings from their personal journey. A great way to introduce life story work.
Emma Park, five stars, Amazon.co.uk