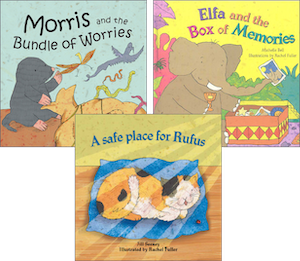 A safe place for Rufus - Elfa and the box of memories - Morris and the bundle of worries
£29.85
£20.00
Buy these three beautifully illustrated children's books together for just £20!
Aimed at children aged three and over, these picture books address key issues for all young people - feeling safe, the importance of memories, and dealing with fears and worries.
Rufus the cat loved curling up in his favourite place and dreaming of pilchards. But it hadn't always been like this…When Rufus was a kitten, he lived with a different family who weren't always kind. Rufus still remembered those times and bad memories followed him everywhere. Would he ever find a safe place where he could be cosy and calm and dream his dreams?
This charming picture book explores the importance of feeling safe and banishing fears, and becoming settled in a new environment.
Memories can be good and bad, happy and sad; those we want to keep alive and others we would rather forget. In this book, Elfa the elephant discovers that sharing her memories and remembering the good things that happened is more helpful than keeping them locked away. The story reinforces the importance of memories and the part they play in making us who we are. 
Morris the mole has a secret. He has lots of worries – in fact he's got a big bundle of them. The worries fill up his bedroom which means he can't sleep and Morris doesn't know what to do. There are squiggly, wriggly worries, thorny, spiky ones, and even some TERRORS which Morris is too scared to touch. The worries float around his head but he's scared to tell the other woodland animals about them.
One day, Morris finds a friend who can help him, and he realises that talking about his problems, and facing his worries with the help of others, is more helpful than hiding his fears.