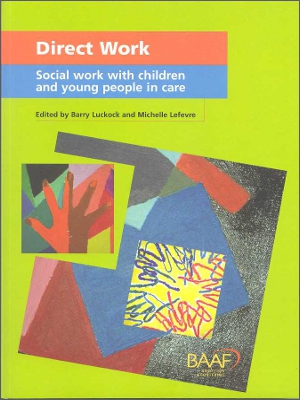 Direct work
£19.95
Direct work with children and young people lies at the heart of effective social work. But what counts as direct work? Is it the undertaking of certain tasks with a child, or building a relationship that matters most? Is it more about what is done with a child or about how it is done? Is it a set of planned activities or spontaneous approaches? And what counts as effective communication, given the diversity of both children and practice roles and contexts?
This book explores the commitment and skill involved in listening to, understanding and being there on a regular basis that, time and again, is demanded by young people of all ages living in care. It tackles the professional skills and techniques needed to safeguard and promote the welfare of the child, the emotional and psychological world of the child in care and the wide range of different settings for direct work with children.
Direct work includes contributions from a diverse range of practitioners, researchers and educators. They present a variety of perspectives on direct work, all illustrated with moving and imaginative examples.
Who is this book for?
All social workers with responsibility for children and young people in the care system. The book offers invaluable guidance for all those working with children in the care system and will be an essential text for students.
What you will find in this book
This rich and comprehensive collection is divided into five sections, covering:
Direct work with children and young people in care
Differing perspectives on the care experience
Approaches to communication and engagement
Direct work in context
Supporting the practitioner
Editors
Barry Luckock is a Senior Lecturer in Social Work and Social Policy. He is a qualified social worker, with practice experience in residential work, community work and as a Guardian ad Litem.
Michelle Lefevre is a Lecturer in the School of Social Work and Social Care. She is also an independent social worker, carrying out expert witness assessments for the family courts.
Reviews
It is rare that one book, combines a powerful plea for a particular form of direct work, based around relationship, with the provision of what should amount to a course book for residential and field social workers working with children. This is an outstandingly useful book.
Jim Christopherson, retired Lecturer in Social Work, University of Nottingham, British Journal of Social Work
This is a very important book for social workers working with children in care. It places the social worker, and the direct work they do, back at the centre of meaningful work with children and young people in care. It is a very thorough look at all aspects of direct work.
Kathy J Bird, Independent Social Work Consultant, Professional Social Work