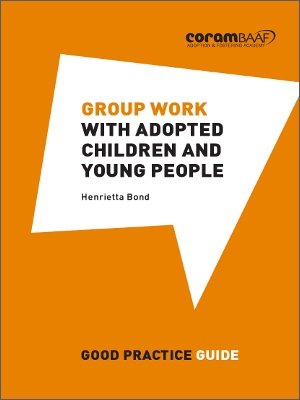 Group work with adopted children and young people
£12.95
Support is important for adopted children and young people, as they come to terms with issues arising from their past and possible neglect and abuse, and their adoptive identity. Recent research, and the growing popularity of groups for children and young people, illustrates their role as a source of support. But what are the benefits of group work? What different activities can these groups encompass? What issues should be considered in organising, running and sustaining a group?
Group work with adopted children and young people considers the practicalities of setting up a group, how best to structure the group and its activities, how to deal with any difficulties, and how to sustain a group long term. Case examples are provided from a range of local authority and voluntary adoption agency groups which are undertaking a variety of important work.
This practice guide is essential for helping with the practicalities of setting up a group, and for imaginative ideas in widening the scope of existing groups.
Who is this book for?
Any adoption agency staff who are considering setting up a group for adopted children or young people, and those already running such groups.
What will you find in this book?
Taking a practical approach, the guide considers:
Issues to consider when setting up a children's group
The importance of setting up a solid group framework from the start
How to successfully run a group, including managing children's challenging behaviour
Balancing safety concerns and opportunites for group members
How to involve and include the views of children and young people
The importance of involving adoptive parents
The purposes for which groups can be used, and which are the most successful
The benefits of groups, for adopted children, parents and the agency involved
Author
Henrietta Bond is a writer, coach and communications consultant who has worked in the fields of adoption, fostering and leaving care for nearly 30 years. Previously BAAF's media and information officer, she is now a freelance consultant and journalist, has written a number of guides, and worked on a variety of projects, including group work with care-experienced children and young people.