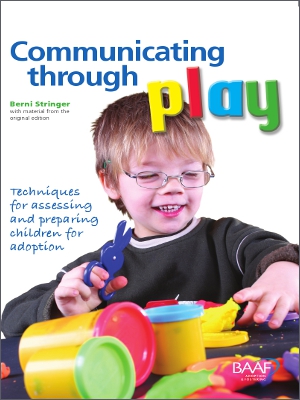 Communicating through play
£11.95
There is increasing awareness that children who have endured separation from birth parents, multiple moves and transitions in the care system, isolation and lack of certainty, present unique challenges to their corporate parents and to the carers who help look after them. They need a delicate balance of nurturing and boundaries so that they can heal and thrive, and modify or change the strategies for safety which they may have developed.
Social workers and foster carers helping to prepare children for permanence have a challenging task ahead of them. When major decisions are being made about their lives, children have a right to be involved, whatever their age or ability, and to communicate their needs. Workers need to understand them, and develop their own knowledge of child development and attachment-building, and the skills to listen to children and communicate with them. An essential skill is the ability to play.
This guide describes a wide range of play techniques that are simple to carry out, creative and can be fun. They will help children to talk about their feelings, fears and hopes. Using case examples, the guide shows how workers can become more skilled at observing and encouraging attachment behaviour, more effective in interpreting and communicating assessment findings to adoptive parents, and better able to help carers understand and use these findings in their day-to-day parenting.
Who is this book for?
Social work professionals and foster carers.
What you will find in this book
The guide offers a variety of verbal and non-verbal techniques which can assist the adult to develop a large repertoire of knowledge and skills for assessing and preparing children for adoption. It will help the worker/carer to: 
become more skilled at observing and encouraging attachment behaviour
develop an ability to engage with children in nurturing and playful ways 
consider how the relationship between children and carers can be enhanced through the play process 
explore how children can be helped to heal through play
Author
Berni Stringer is a practising non-directive play therapist and works predominantly with children in care.
Reviews
This is a book about the assessing and preparation of children who are deemed suitable for the process of adoption. It is a brightly coloured flexible book. The information is realistic and draws frequently on the most recent research and theories. I actually found it to be very interesting and informative. The emphasis was on partnership and cooperation where the child is the key player. It emphasises the importance of openness and honesty.
Children Webmag, The Centre for Children and Youth, University of Northampton, UK