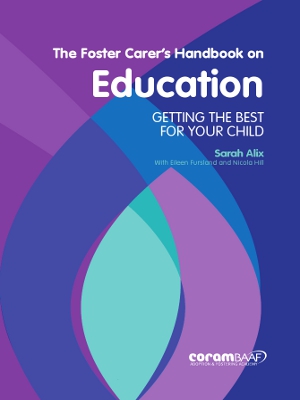 The foster carer's handbook on education
Getting the best for your child
£14.95
How can foster carers best support the education of the children and young people in their care? Many children in foster care get on with school, enjoy it and do well, but some really struggle, their ability to cope with its demands affected by the impact of previous experiences of neglect, trauma and loss. They need understanding and extra support that is not always readily available.
Foster carers are likely to know the child well, and so will know whether she or he is settling into a new primary school or coping with the transition to secondary education. Teachers and other school staff can benefit from their guidance about how best to help the child feel safe and understood in the classroom. This handbook aims to support foster carers in that task, and so help children to have the best possible experience of education, right up to leaving care.
Who is this book for?
This guide is a must for any foster carer seeking to support the children or young people in their care through school and beyond.
What you will find in this book
This clear straightforward guide includes information and advice on:
how early experiences can affect children's learning
the legal framework, including fostering regulations and standards and what they mean for carers
the school system - who's who and what they do
moving between classes and schools 
special needs, exclusion and alternative provision
post-16 education
Personal accounts drawing on the experiences of foster carers, professionals and young people help to bring the topic alive. Summary points ensure that the guide's conclusions are set out clearly and simply for busy carers.
The authors
Sarah Alix has worked for 20 years in education a a youth worker, class teacher, behaviour support adviser and lecturer. She is currently Academic Programme Director for North Essex Teacher Training (NETT) and a Senior Fellow of the Higher Education Academy. Eileen Fursland and Nicola Hill have written extensively on fostering and adoption issues.
Reviews
I found this handbook really useful; it's something I wish I had read when I first became a foster carer because it covers everything you'd need to know.
Katie Jones, foster carer
The practical tips are excellent and empowering, for example I really like the sections on helping children with transitions and with home learning.
Fiona Darlington-Black, Head of Service, Cornerways Fostering Services