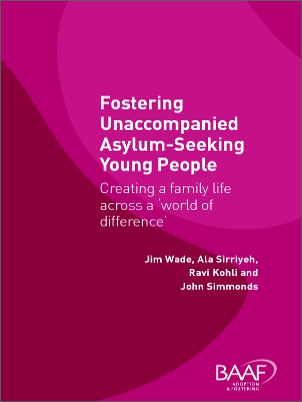 Fostering unaccompanied asylum-seeking young people PDF only
Creating a family life across a 'world of difference'
£12.50
Unaccompanied asylum-seeking young people form a small but significant part of the UK looked after children population. They are also a group of young people with complex circumstances and needs tht require careful and sensitive assessment, planning and placement.
This research study examines the results of a census survey of four local authorities, looking after over 2,000 unaccompanied young people. How did local authorities plan for and place the young people? How did the young people settle in their foster families, and how did they and the foster carers experience the placement? The study presents a range of implications for policy and practice. 
Who is this book for?
This book will be valuable for all those with an interest in the care and support of unaccompanied asylum-seeking young people.
What you will find in this book
This study explores:
The young people and their carers involved in the study
Arrival, assessment and placement-making
Transitions into foster care
Placement relationships: how young people were getting on
Education pathways
Health and emotional well-being
Building social networks
Moving on from care
Supporting foster carers
The authors
Jim Wade is a Senior Research Fellow in the Social Policy Unit, University of York. He has researched and published widely on social work and related services for unaccompanied asylum-seeking young people. Ala Sirriyeh is a lecturer in sociology in the School of Social and International Studies at the University of Bradford. Ravi Kohli is Professor of Child Welfare at the University of Bedfordshire. John Simmonds is CoramBAAF's Director of Policy, Research and Development. 
This book is out of print. It can be downloaded free by CoramBAAF members from the members' area of the website. The pdf file can be purchased by non-members.