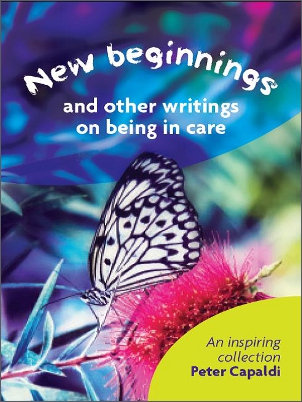 New beginnings and other writings on being in care
£7.95
This rare and rich collection of poetry and writing throws the spotlight on living 'in care' - a subject rarely explored in literature and yet experienced by more than 60,000 children in the UK every year.
Look inside
Who is this book for
New Beginnings will be of interest to foster carers, social work and other child care professionals, care leavers and children living in care.
What you will find in this book
The 30 entries by children and young people, aged from nine to 24 years old, reflect on a range of feelings about leaving the familiarity of family and home, starting afresh, dealing with changes, being 'lost and found', feeling loved, and what being in care has meant for them. The life experiences of these children and young people can be hard for them to recall, make sense of and communicate and for many writing is an effective and therapeutic way of expressing challenging emotions and experiences.
The writings in this book were collected through the writing competition Voices, run annually by the charity Coram Voice. Voices is a platform for the voices of children in and around the care system. It aims to promote a positive image by showcasing young people's creativity and improving understanding of their experiences, in particular 'new beginnings' - what and who have given them opportunities for a fresh start. 
Reviews
It is impossible not to be moved and humbled, not only by the creative talent and spirit of resilience of the writers, but also by the courage they display by sharing their personal experiences with the public.
Peter Capaldi, actor and star of Doctor Who