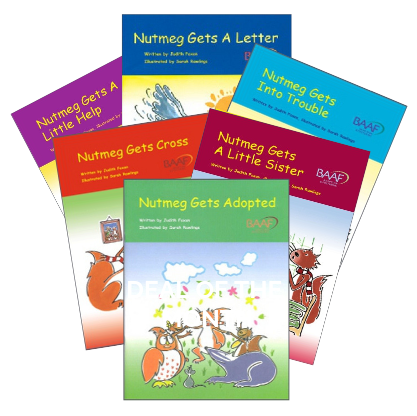 Nutmeg - the full collection
£72.00
£50.00
This engaging series follows Nutmeg the squirrel and his brother and sister on their adoption journey. It includes titles on being adopted, managing painful feelings, contact issues, post-adoption support, problems in the school environment, and sibling adoption. Comprehensive practice guidelines are available with each title to help adults reading with a child to encourage them to explore their own history and make sense of their experiences and feelings.
Nutmeg gets adopted
Nutmeg, a little squirrel, and his younger sister and brother go to live with foster carers, and are then adopted, after their birth mother realises that she cannot keep them safe. Read more.
Nutmeg gets cross
In this story Nutmeg is angry that being adopted makes him "different". He misses his birth family but is cross with them at the same time. He is being bullied at school and finds some changes confusing. Read more.
Nutmeg gets a letter
In this book Nutmeg's birth mother usually sends him a letter for his birthday. This year, the letter is late and he is sad and worried. Through discussion with his friends, who have a range of different family situations, and his adoptive family, Nutmeg is helped to understand the effects that contact can have and the strong emotions it can arouse. Read more.
Nutmeg gets a little help
Nutmeg is now settled with his adoptive family but has questions which confuse and worry him. He needs to know why his birth parents couldn't look after him and keep him safe. He gets a little help from Beth Badger, who uses various strategies to help Nutmeg understand and accept his past. Read more.
Nutmeg gets into trouble
In this story Nutmeg likes school but has started having problems with bullying. He gets into trouble for fighting when he is trying to protect his friends. Nutmeg is angry, worried and confused. How can he make things better? Read more.
Nutmeg gets a little sister
In this story Nutmeg's adoptive family is about to grow as his parents have decided to adopt his birth sister, who can't be looked after by his birth mother any more. The young squirrels are very excited to have a new sister, but a little bit anxious too. Nutmeg is helped to explore his worries – what will it be like to have a new child in the family? Will his parents still spend time with him? Will he have to share his toys? Read more.
Who are these books for?
These books are ideal for young children who have been adopted, and who are, or who may be, having adoption support and/or direct work. It will help them to make sense of their experiences and emotions.
The books are intended to be read to or with children by their own social worker, their current carers or their adoptive parents.
What you will find in these books
The books offer a practical way to help children explore and understand adoption support, direct work and life story work. They can be used simply as stories, but also as workbooks and tools for therapy, suitable for use with children of different ages.
Practice guidelines (which can be removed from the books) offer suggestions and triggers for further discussion which can be developed to suit the needs of each child.
Author
Judith Foxon is an adoption worker and has many years' experience in recruiting and preparing families for children of all ages and of direct work with children. As an adoptive parent and foster carer herself, she is committed to developing better ways of helping families to communicate with and support their children.
Illustrator
Sarah Rawlings' illustrations were inspired by originals first drawn by Jessica, a young friend of the author's. Jessica, who is adopted, helped bring the project to life with her charming and colourful illustrations. She shared her original illustrations and the ideas behind them with Sarah.
Reviews
It focuses on contact in adoption and by introducing several other woodland creatures, each with different contact arrangements, the author is able to look at a number of different issues, not just 'letterbox' contact as suggested by the title. The illustrations are appealing and the text is child-friendly. I think that the book will be a good tool for parents. Included with the story is a useful paper for adults entitled 'Contact issues and arrangements'. Altogether, I found the publication interesting, readable and appealing. It will be helpful to adults and children alike.
Alison Hatton, Adoption magazine, Adoption UK
Very impressed with these books. Bought them as a present for my foster child as an adoption gift so his new mummy and daddy can read them to him when he gets a little older. Well written and very suitable for young children. I read them first to make sure they were okay and enjoyed the story.
Sylvia Heaven, five stars, Amazon.co.uk
As far as I am aware, this is the only book for adopted children that focuses on school. Every page includes familiar issues – making Mother's Day cards, deciding what to tell other children, bullying and wanting to fit in. These are all such vital issues that the book must be considered essential for social workers and parents. The book has several uses. First, it can spark family discussions about school issues. Second, the calm and confident approach modelled by Nutmeg's family will help adopters deal with their children's difficulties. Third, it would be a useful tool for preparing adopters and teachers because it communicates Nutmeg's feelings much better than a grown up book would. Nutmeg the squirrel must be a familiar figure to most adopted children of primary age and this latest instalment of his adventures will doubtless be well received.
Clea Barry, adoption social worker, Community care magazine
The book addresses some of the new challenges that school may pose for adopted children. The issues raised in the book will be familiar to all too many adoptive families. The illustrations are bright and simple. I would suggest that any school child would benefit from the content. I would also recommend it to parents and teachers.
Patricia Lowe, Adoption UK Trustee and social worker, Adoption magazine, Adoption UK