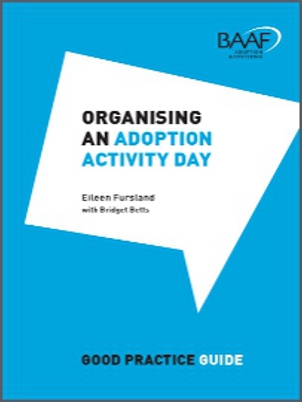 Organising an Adoption Activity Day
£12.95
Adoption Activity Days are informal events with an emphasis on providing a fun day for children who need adoption. But the underlying aim is serious – finding adoptive homes for children who are the most difficult to find families for by bringing them together with prospective adopters. But what is the reality? How do these events work and what do they offer? And how do participants experience them?
This Good Practice Guide provides the answers and also outlines how to set up and run an Adoption Activity Day, based on the learning from a BAAF pilot project and a number of events that have taken place. With numerous case studies and quotes from prospective adopters, children, foster carers and social workers, it brings to life what it is like to be involved in an Adoption Activity Day.
Who is this book for?
Social workers and managers who are interested in setting up and running their own Adoption Activity Days.
What you will find in this book
The guide includes practical guidance on:
the principles and values that underpin Adoption Activity Days
a brief history of how they came about and their place in family finding today
planning and managing the day
preparing all the participants for the day
managing the risks and addressing common concerns
It also contains useful checklists, timelines, a sample risk assessment form and the results of a BAAF Adoption Activity Day.
Author
Eileen Fursland is a freelance writer specialising in issues affecting children and young people. She has written extensively for BAAF/CoramBAAF as well as for a range of magazines and national newspapers and other organisations. Eileen also provides training sessions on the implications of social networking for adoption and fostering and how to manage the challenges it poses.