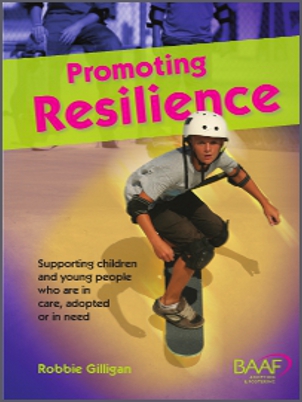 Promoting resilience
£14.95
The concepts of resilience and vulnerability have been in the professional domain for some time, but it is the work of Robbie Gilligan that has been instrumental in clarifying these concepts and applying them to practice.
Promoting resilience is centred on two messages of hope: that the lives of children in care can be made better; and that what social workers and carers can do – even the little things – can make a difference to children's lives and their life chances.
So, what can make that difference? What can be done to build on children's strengths? How can we help young people to develop their interests? How can we enable them to realise their full potential?
The guide contains inspirational ideas and suggestions for promoting resilience in day-to-day work. A resilience-led perspective tends to be optimistic and pragmatic. It is based on the belief that change is possible and that this often comes not only through supportive relationships, but also from little things in everyday experience.
Who is this book for?
Frontline workers and managers who want to adopt a resilience-led perspective in their work with vulnerable children.
What you will find in this book
In very practical ways, Gilligan shows how to build feelings of confidence, self-esteem and effectiveness, which encourage resilience in children, using relationship opportunities in their family and social networks, school and leisure activities.
The guide focuses primarily on young people and their experience is given voice through extracts from research and from direct quotes. Case studies help to bring the material to life for the reader. In addition, "points to consider" will stimulate reflection and will help social workers and carers translate the ideas into practice.
Author
Professor Robbie Gilligan is head of the School of Social Work and Social Policy, and Associate Director of the Children's Research Centre at Trinity College, Dublin. He has a special interest in the concept of resilience and its application in work with children in care. He has published papers and presented workshops on this theme in a number of countries.