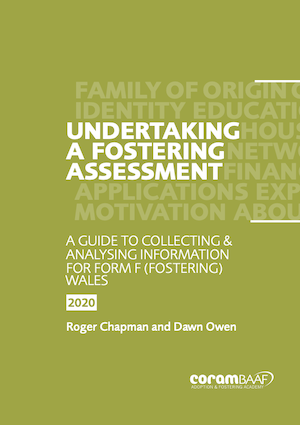 Undertaking a fostering assessment in Wales
£10.95
NEW FULLY REVISED AND UPDATED 2020 EDITION
This guide is designed to help social workers to manage and complete a comprehensive and evidence-based assessment of prospective applicants who want to foster a child or children. It is to be used by assessing social workers to complete a Prospective Foster Carer's Report using the CoramBAAF Form F (for Wales).
This guide will assist workers in writing their assessments using Form F. It is primarily based on Section B of Form F, which brings together information about the applicant – individual profile and family and environmental factors; present circumstances; becoming foster carers.
Each section of the guide presents a list of trigger questions that can facilitate further discussion and encourage exploration of different areas and suggestions as to how this can be analysed to assess an applicant's suitability, or not, to foster. It also includes guidance on kinship care assessments.
Who is this book for?
All those undertaking fostering assessments in Wales. The guide will be of particular use to those who are new to the task.
What you will find in this book
Logically structured and very accessibly presented, this guide:
assists the assessing social worker in collecting some of the basic information necessary to complete a comprehensive Form F assessment;
prompts the social worker to analyse the information they have collected with regard to its effect on the application;
shows how the information given could be verified from sources both within and outside of the family; and
suggests which of the BAAF competencies and outcomes within the Care Council for Wales' Induction Framework might be evidenced from the information collected.
The guide includes worksheets to help assessors to plan and keep track of ongoing assessments, and useful checklists about safer caring, completing ecomaps and health and safety issues.
Authors
Roger Chapman is an independent social worker based in Northamptonshire. He worked in the fostering team of Northampton County Council until 2006, as team manager for six years; during which time, he had extensive experience of undertaking assessments of foster carers himself and supervising others engaged in this task. Since 2006, he has been working independently offering consultancy; undertaking assessments and annual reviews of foster carers; providing training for staff in assessment; and sitting as an independent member on fostering panels. Between 2007 and 2011 he was a non-lay member of the GSCC Registration and Conduct Committee and since 2010 he has been a non-lay member of the Independent Review Mechanism Panel.
Dawn Owen works as a part-time Independent Reviewing Officer for the Isle Of Anglesey County Council, and an independent social worker. She qualified as a social worker in 1995 and initially worked as a children's social worker. In 2000, she was appointed as manager of the Adoption, Fostering and Day Care Team in Anglesey, which evolved into the Child Placement Team following the creation of the North Wales Adoption Service and the Care Standards Inspectorate (now known as CIW). She undertook a two-year secondment to focus on training and development for social workers, before returning to manage the fostering service until her appointment to the role of Independent Reviewing Officer in November 2018.