LGBTQ+ Fostering & Adoption Week runs from 6-12 March. The week is hosted by New Family Social to raise awareness and encourage the LGBTQ+ community to consider adoption or fostering.
We have hand picked some of our materials and resources to share during #LGBTQ+AdoptionandFosteringWeek that relate to adoption, fostering and kinship specifically from an LGBTQ+ perspective.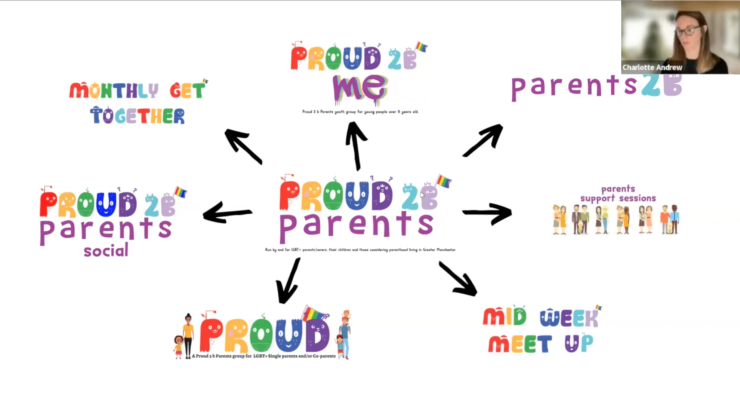 Supporting the LGBTQ+ community to become foster carers
We recently hosted an Exploring Expertise webinar in association with Proud 2B Parents. The session focused on how professionals can support the LGBTQ+ community to become foster carers. Members can watch this webinar again
Watch again
The focus for 2023 is to consider adopting or fostering single children or those in sibling groups with '1, 2, 3, or more?' the theme for the week. Below are just two of the upcoming sibling related training we're running in the coming months.
Exploring Expertise: Reflecting on sibling reunion - a professional and personal journey
11 April 2023 | 11.30am - 1pm | Zoom

In this session Denise McLean, experienced social worker and chair of CoramBAAF's Black Workers Support Group, will be sharing her experiences of sibling reunion and meeting some of her siblings for the first time as an adult, and reflecting on this from both her personal and her professional perspective.
Free for members
Sibling Assessments: Beyond, together or apart
25 April 2023 | 10am - 4pm | Zoom

This open course will offer a comprehensive approach to undertaking sibling assessments. Most importantly it will explore how to gain the views of the children, observe sibling interactions and draw conclusions on the quality of sibling relationships as well as focusing on the individual needs of each child and of the sibling group.
Book now
Check out our other books and publications:
Beyond together or apart - Planning for, assessing and placing sibling groups, Shelagh Beckett (2021)
Practice Note 69. Assessing and supporting transgender foster carers and adopters, Claire Brown, Charlotte Andrew and Paul Adams (2018)
Becoming Dads, Pablo Fernandez (2011)
Is it True you have Two Mums?, Ruby Clay, (2011)
Dad David, Baba Chris and Me, Ed Merchant, (2010)
Josh and Jaz have Three Mums, Hedi Argent, (2007)
Read our journal articles
Did you know members members have free access to all issues of the journal dating back to 1977? Just sign into your website account to receive access. Here are some journal articles from previous issues that delve into topics that involve the LGBTQ+ community: