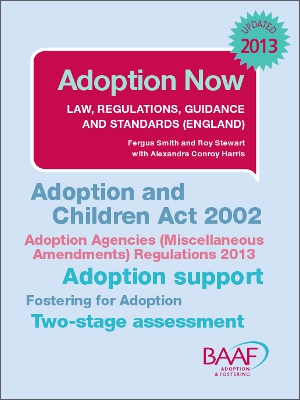 Adoption now
£8.95
This handy guide presents the law, regulations, standards and guidance relating to adoption today, covering all stages of the process and related information – in easily digested bite-sized chunks.
This edition has been fully revised and updated to draw together all current legislation, including recent changes and new initiatives.
Small enough to carry in a handbag or briefcase, it provides instant access to necessary knowledge and data whenever needed.
Who is this book for?
Anyone working with children and families in a social care setting needing quick and easy access to the latest applicable legislation and regulations in adoption.
What you will find in this book
Principles, concepts and statutory provisions (includes adoption orders, special guardianship and adoptions with a foreign element)
Regulations (includes Fostering for Adoption)
National Minimum Standards
Authors
Fergus Smith is the Director of Children Act Enterprises Ltd, an independent social work consultancy. Roy Stewart is an Associate Consultant with Children Act Enterprises. Alexandra Conroy Harris is CoramBAAF's Legal Consultant.
Reviews
This pocket-sized handbook provides a comprehensive guide to the law, regulations, standards and guidance relating to adoption today… quick and easily available guidance for a range of professionals, not just adoption workers, but also social workers in court teams and Children Panel solicitors. This is a really useful handbook, a timesaving necessary reference guide.
Philippa Barnett, independent social worker and children's guardian, Seen & Heard
This handy, pocket-sized guide is designed for adoption workers, who may at times need to remind themselves, or explain to others, points of law, policy or procedure around adoption. All the relevant law, regulations, rules and guidance are included. This is a very handy resource.
Care and Health, Issue 48