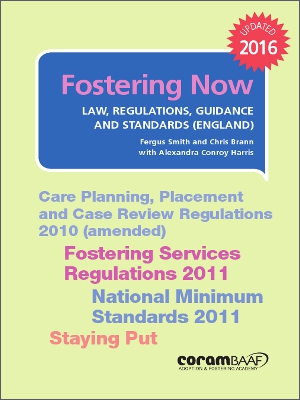 Fostering now
£8.95
This handy guide presents the law, regulations, standards and guidance relating to fostering in England today, in easily digested bite-sized chunks.
This edition has been fully revised and updated to draw together all current legislation and procedures, including the 2011 National Minimum Standards, as well as recent changes and new initiatives.
Small enough to carry in a handbag or briefcase, it provides instant access to necessary knowledge and data whenever needed.
Who is this book for?
Anyone working with children and families in a social care setting needing quick and easy access to the latest applicable legislation and regulations in foster care.
What you will find in this book
Routes into foster care
Local authority general duties towards looked after children
Care Planning, Placement & Case Review (England) Regulations 2010 (as amended)
Fostering Services (England) Regulations 2011 (as amended)
National Minimum Standards
Child-focused standards
Standards of fostering service
Fees and frequency of inspections
Authors
Fergus Smith is the Director of Children Act Enterprises Ltd, an independent social work consultancy. Chris Brann is an Associate Consultant with Children Act Enterprises. Alexandra Conroy Harris is CoramBAAF's Legal Consultant.
Reviews
Excellent, interesting, simple straightforward language, no jargon, well laid out, useful reference guide to keep on the bookshelf. Good reading generally.
Mickey May five stars, Amazon.co.uk
Great book for family placement social workers! Handy size and combination of fostering regs, guidance and standards. Answers most questions.'
Mrs M. O'Neill, five stars, Amazon revie.co.uk