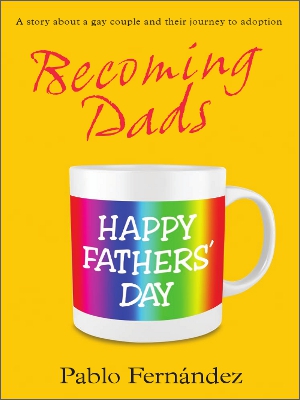 Becoming dads
£8.95
Published as part of the Our Story series, this is the story of Pablo and Mike, and their journey to becoming adopters. Set against a contemporary background of diverse perceptions – both encouraging as well as hostile – as to whether gay men should adopt, Pablo's diarised narrative tracks this journey, starting from their own initial doubts about whether or not they would be accepted and approved – they didn't know of any other gay couple who had adopted – through to the positive affirmations they receive.
They tackle the process with commitment and determination – the preparation, assessment and the waiting – till they become the proud dads of a young boy.
Who is this book for?
Anyone who is interested in the adoption experience and how this feels for the people involved, particularly gay or lesbian parents.
What you will find in this book
'So why do it? We must be such traditional guys that a few months after getting married we've started going on about having children! I suppose it's quite a natural thing to do. You get to that age in your mid-thirties when all your (heterosexual) friends have children. I always wanted to have children. Then I accepted that I was gay and thought that it was not to be, which to me was one of the hardest things about coming out.
But the more I thought about it, the more I realised that this needn't be the case. I love children. I love playing with my friends' kids and with my nephew and nieces. It feels quite natural to me…I don't see why I shouldn't have a paternal instinct just because I'm gay. I want to look after a child (or children). I want to bring them up, educate them, watch them grow, support them, share their joy in the good times and cry with them in the bad times. I want to be a grandfather one day (but not too soon!). I know Mike and I would make good parents.'
'Today, as my nieces and nephew opened presents and I helped to put toys together and played with them, I couldn't help feeling a little bit sad and hoping that in the not too distant future Mike and I have our own child or children staring open-mouthed and wide-eyed at a room full of nicely-wrapped presents, opening them excitedly, and showing them to us as we pretend that we didn't know what was under the tree.
Not too keen on the ensuing fight later about who got to play with what, whether one of them had really stepped on a toy on purpose, and who'd had the last piece of jigsaw that was missing…but I'm glossing over that bit.'
Author
Pablo Fernández was born in Spain but has lived in the UK since 1995. He lives in the south-east of England with Mike, his partner for 15 years, and their son.
Reviews
Emotional. Truthful. Fantastic. Loved it. Nice to read a well written and honest depiction of adoption. I'm going through the adoption process myself and after reading the first couple of pages I couldn't put it down. I may have cried at the end but it was fine, no one was watching! Great book, a must read.
Five stars, Amazon.co.uk
Engaging and informative…a valuable resource for potential adopters, offering pointers and suggestions…Fernandez's book is a welcome addition to this growing corpus of literature and will have much to offer to potential gay adopters, all adopters, social workers and students.
Stephen Hicks, Reader in School of Nursing, Midwifery and Social Work, University of Sheffield, Child & Family Social Work
This book is quite simply a gem.  Every step of the process is listed in engaging detail. Once picked up it is difficult to put down. This book will undoubtedly be essential reading. Becoming Dads is an effortless and educational must read for adopters regardless of their sexuality and for social workers everywhere.
David Thompson, adopter of three boys and member of New Family Social, cypnow.co.uk