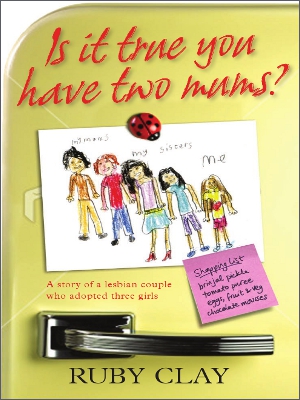 Is it true you have two mums?
£8.95
Published as part of the Our Story series, this is the heart-warming story of Ruby and Gail and their belief in their potential to adopt. Some social workers they encounter think, as a lesbian couple, that they are unfit to be parents; others recognise that their Asian dual heritage family has much to offer. The story charts their journey to becoming parents to their three daughters and offers a glimpse of their family life over these extraordinary years, as their family grows together.
The 18 years spanned by their story also see significant changes in attitudes to adoption by gay and lesbian parents, illustrated by the changes in attitudes the family see around them.
Who is this book for?
Anyone who is interested in the adoption experience and how this feels for the people involved, particularly gay or lesbian parents.
What you will find in this book
'"What about adopting?" I volunteer lightly, in a "just-an-idea" sort of way, staring carefully into the fire.
"Would you want to? Really?" Gail is excited. "I think it's a great idea. We'd be good parents, wouldn't we...?"
Looking back, I can see that I was quite naïve and privileged…I had little idea of the odds still stacked against us in the last decade of the twentieth century, very different to the situation years later.
"How on earth do we start, though? I mean, we can't just ring up and say, 'We're a lesbian couple and we want to adopt a child', can we?"'
'From the beginning, we talked to Maya about us being lesbians and how it would be for her to have two mothers. We never asked her to call us "Mummy"; we were always "my parents" to other people, and "Gail" and "Ruby" to her…Maya was quite clear about what being a lesbian meant: there were big storylines about lesbian characters running in Eastenders and Brookside at the time she moved in with us.'
Author
Ruby Clay is an Asian lesbian trainer and writer, who lives in the north of England with her partner, her three daughters and her elderly father.
Reviews
You need not be an expert in the subject matter, nor share any of the attributes of the writer to enjoy this book. It is, at its core, the story of a couple who are united in their unfaltering commitment towards adoption, despite the very process (and individuals in the process) often condemning who they are and what they believe in. Overall, the tale is both a heart-warming and informative one and would share equal appeal to social work students /practitioners and prospective adopters. Underpinned throughout is the writers' understanding of the adoption process, the legislation and those who are involved throughout. This is accurate and presented simply for the reader to understand. From a practical perspective the story highlights some of the limitations of social work, while the personable writing style means this book could be used as a good tool for social workers to aid reflection and improve social work delivery. For prospective adopters there are some handy tips and signposting which add to the benefits of the read.
Professional Social Work