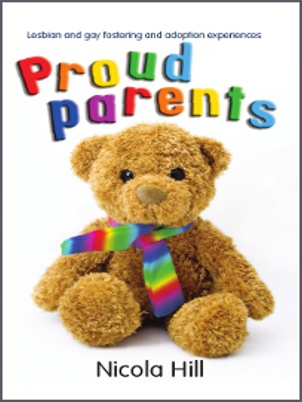 Proud parents
£13.95
This is a compelling and poignant collection of stories of lesbians and gay men who have adopted or fostered children. Single and in partnerships, they share their experiences on a number of issues. What motivated them to adopt or foster? How did they respond to the assessment process? What was it like when the child first moved in? And what is life like now, together as a family?
A major focus of this collection is on building a family together, enjoying new activities and helping children to come to terms with their early life experiences. Contributors also talk honestly about the impact of adoption or fostering on their own lives, relationships, finances and work.
This is a moving and powerful tribute to how love can change lives for the better.
Who is this book for?
Anyone who is interested in the experiences of lesbian and gay adopters and foster carers, including those considering adoption or fostering, currently going through the process, new adoptive and foster families, and social work practitioners who work in this field.
What you will find in this book
'I think adoption has been the making of me. I used to be much more self-centred before I had children. Now you have to put them first, but it's worth it for the joy they give you. It's hard work but very satisfying and gratifying. Both the kids are very loving and giving.'
'I think preparation is the key to everything. As two men, we hadn't had much hands-on experience so we worked in a nursery once a week as part of our preparation. We also did a positive parenting course, some training and a residential course. That really worked well for us. I've also read loads on attachment disorder.'
'When each child moved in, we tried to keep the same routines as the foster homes for the first few months. The change is so massive for them. As neither of ours could speak when they were placed, we had to guess quite a lot. I would say find out as much as you can from those who have cared for them beforehand.'
Editor
Nicola Hill is a writer, specialising in LGBT issues. She also offers training and gives presentations about recruiting adopters and foster carers from the LGBT community. Nicola and her partner, Laura, foster two children on a long-term basis.
Reviews
This book is an excellent resource for social workers, carers and prospective carers. It is very evident that the contributors have given their frank honest experiences…For social workers reading these accounts there are excellent insights into how families see their experiences during the assessment and matching processes. Every social worker will put this book down having a greater understanding of the needs of LGB families and family's needs in general, an understanding that is not taught at university…Overall the book made me smile, sometimes feel angry about the ways these people have been treated, and fell warm hearted about the comments that young people have made about their new parents. It is an easy read, and is ideal to be left on your coffee table for anyone to dive in for ten minutes for inspiration and sometimes just to be a little nosy. This book is a true triumph for Nicola Hill, and I hope that it is added to with further volumes.
Stuart Bray, Equality and Diversity Co-ordinator, Core Assets, Rees Centre Newsletter
It makes an important contribution to the fields of fostering and adoption…Hill's book provides a wealth of material for everyone involved in fostering and adoption. I hope adoption and fostering agencies will recommend it to prospective applicants, whether they are lesbian, gay or heterosexual, because it is one of the best records detailing the experiences of adopters and foster carers we have.
Helen Cosis Brown, Professor of Social Work, University of Bedfordshire, UK, Adoption and Fostering
This book should be read by lesbians and gay men to encourage more to come forward as adopters or foster carers. It is also essential reading for social workers to show them how we can provide supportive, loving families for children who need our care.
David Akinsanya, TV broadcaster and gay foster carer