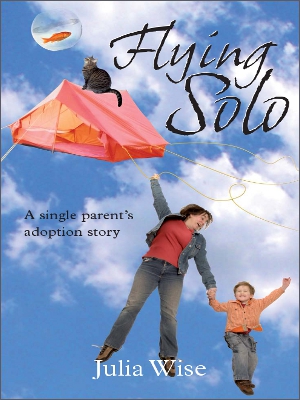 Flying solo
£8.95
Adoption is a very viable option for many single people who want to start a family. This book describes the realities of life on your own with an adopted child.
Published as part of the Our Story series, Flying solo tells Julia Wise's story of adopting solo. It's a very personal story, but one that will resonate loudly with single adopters everywhere. She tells of how she came to adopt two-year-old Alan, giving up a high-flying career in television and hectic London life to move to the country and prepare for what would be a life-changing experience.
Julia offers a realistic look at the joys and pitfalls of adopting on her own and the impact of her decision on herself, her family and close friends. She also describes the reactions of others around her.
Flying solo is also a book about self-realisation. The author takes an honest look at why she decided to adopt, what is involved in personal terms, the financial consequences, adjusting to changes, and what it felt like to become "mummy".
This is a heartwarming, humorous and upbeat account, and the author lays bare her mistakes and misconceptions, and also shares with the reader some practical advice and top tips: never apologise for being a single parent; develop your laughter muscles; buy a good aluminium ladder; and much more!
Who is this book for?
A must-read for potential single adopters and for anyone who is considering adopting or in the process of becoming an adoptive parent.
What you will find in this book
'So why did I decide to adopt a child on my own? The obvious question, you might think, but not one that I'm generally asked, though I'm constantly amazed at how intrusive people feel they can be about Alan and his life story…
…I looked ahead and realised that if I didn't do something I would end up miserable and alone. I began to realise that what was missing in my life was a family – children. The I discovered, quite by chance, that I might be able to adopt a child on my own…I made a choice and happily my joyful child reminds me daily that it was the right choice, not only for me, but also for him.'
Author
Julia Wise has been a journalist and TV producer and is now living in East Anglia with her son Alan.
Reviews
Really enjoyed this. The writing was humorous and easy to read. It provided some insights into single adoption and some of the frustrations. It made me laugh out loud and feel sad. In general it was heart-warming with some useful tips and insights. I would definitely recommend this to all potential single adopters.'
Miss L Buse, five stars, Amazon.co.uk
Julia Wise gives a candid account of the highs and lows of adopting as a single parent. Flying Solo is reassuring, inspiring, honest, down to earth, very easy to read, and packed full of useful tips, not to mention extremely well-written in a way which was both humorous and informative. In a nutshell, Flying Solo is a must for every single person on the emotional rollercoaster of adoption, and couples too will enjoy it and learn a lot from it. I can't recommend it highly enough.
Lynne, five stars, Amazon.co.uk
This is by far the best adoption book I have read, and I have read a few! The author is quite open about her experiences and doesn't feel that she can't tackle the inevitable question of 'why don't I have a daddy?' This and many other issues are raised and addressed, and her thoughts, concerns and feelings are there for everyone to read. It is a real life account, not some rose tinted glasses version and for that I find this book invaluable.
EJ77, five stars, Amazon.co.uk