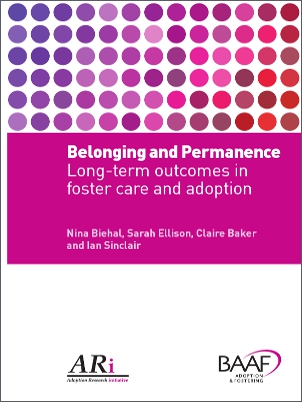 Belonging and permanence PDF ONLY
Outcomes in long-term foster care and adoption
£12.50
There are a number of possible placements for children in care, including adoption and long-term fostering. But how far are the different options able to provide both permanence and positive outcomes for children? 
This book reports the findings of a study which compared three types of permanent placement: adoption by strangers, adoption by carers, and long-term foster care. What were the outcomes for the children? How stable were the different placements? What were the emotional, behavioural and relationship difficulties of children in each type of home? What was the nature of their contact with birth families? This book provides important evidence on the outcomes of different permanent placements and on children's perceptions of belonging and permanence in foster and adoptive placements. It draws out key implications for policy and practice. 
Who is this book for?
This book is ideal for researchers, managers and practitioners in the fields of both adoption and fostering. 
What you will find in this book
This study looks at: 
The effect of adoption reform on the sector
Planning for permanence
Predictors of adoption
Comparing emotional, behavioural and relationship difficulties of the children in different placements
Education: comparing progress and outcomes
Contact with birth families
Sense of belonging
Perceptions of permanence
Placement stability and change
Authors
Nina Biehal is a professor at the Social Policy Research Unit at the University of York, where she directs the programme of research on social work with children and young people. Ian Sinclair is Professor Emeritus at the University of York, previously Professor of Social Work and co-director of the Social Work Research and Development Unit. Claire Baker is Senior Policy Manager for the National Care Advisory Service. 
This book is out of print. It can be downloaded free by CoramBAAF members from the members' area of the website. The pdf file can be purchased by non-members.
Reviews
This thoughtful and detailed work is a call to policymakers and managers to look again at all the possible routes to permanence for looked-after children as a way of improving their life chances.
Janet Rich, Children's Services Development Officer, National Care Association, Children and Young People Now
A stand-out feature of the book is its particular attention to the methodological issues informing the study. The book is written in straightforward, clear language. As a whole, the book is easy to read and understand. The layout of the book is also impressive.
Kathy Mendis, Children Australia
This book is helpful in that it highlights the things that are ordinary and obvious. This is perhaps the most important reason to read this book – and for the social worker to dip into the sections from time to time.
Maggie Jackson, Teesside University, England, Journal of Social Work 16:6