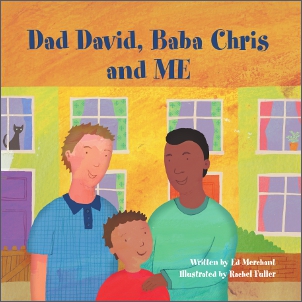 Dad David, Baba Chris and Me
£9.95
Ben is nearly eight years old. He lives in an ordinary house, in an ordinary street, goes to an ordinary school and does ordinary things. In fact, he's just like everybody else.
Or is he? Ben lives with his two dads who adopted him when he was four. Children at his school find out and begin teasing him. Ben is worried that he isn't so "normal" any more. But with the help of his dads and his teacher, Ben and the other children at his school learn that all families are different, and all special in their own way.
This charming and affirming picture book for young children encourages an understanding and appreciation of same-sex parents, as well as showing that families come in all shapes and sizes.
Who is this book for?
Young children aged five and above. It can be used in a general way to teach children about different families, but will be particularly useful for those who are, or who are to be, adopted or fostered by same-sex parents or carers.
What you will find in this book
The simple story and clear pictures provide a gentle introduction to showing children that families come in all shapes and sizes, and address some common worries that children may encounter, such as making family trees at school.
Author
Ed Merchant is a social worker, and has spent several years in child care and child protection, fostering and adoption.
Illustrator
Rachel Fuller is a freelance illustrator. She has illustrated several children's books for CoramBAAF including A safe place for Rufus, Elfa and the box of memories, Morris and the bundle of worries and Spark learns to fly.
Reviews
This brightly illustrated story attempts to find a way of explaining the diversity and difference that is reflected in modern-day family groups. With a distinctive illustration style portraying the characters in a simple yet real style, this is an important book for young children who are trying to understand, or are being taught about, the varieties of families that can be found in modern society. It will be as useful to social workers and childcare professionals as to teachers and parents for its gentle and helpful approach to a complex and often misunderstood subject.
Louise Ellis-Barrett, The School Librarian
My wife and I both liked this book a lot. It's sensible, sensitive and fun, with illustrations which catch the tone of the narrative particularly well.
M A Stanton, Amazon.co.uk