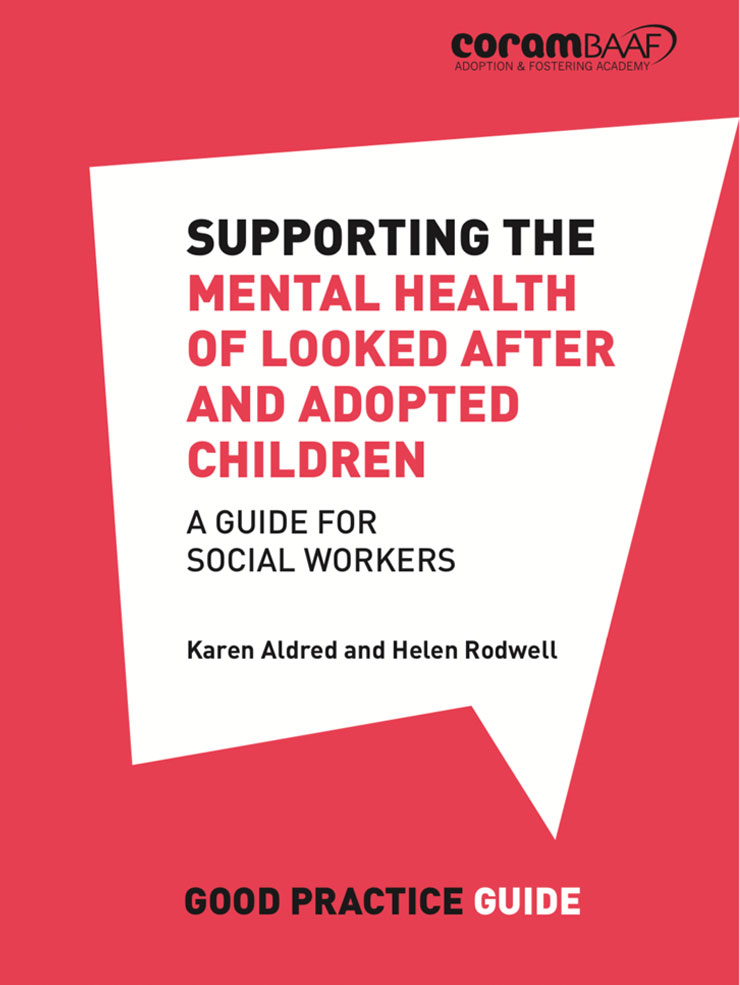 Supporting the mental health of looked after and adopted children
A guide for social workers
£16.95
Mental health difficulties can affect children and adults from all walks of life – but unfortunately, looked after and adopted children are more likely to be affected, often due to their difficult early experiences. Social work professionals do a valuable yet challenging job of supporting these children, but the area of mental health can feel like a complex labyrinth. With demands on health and social care increasing, and a new emphasis being placed on the importance of children's mental wellbeing, how can workers encourage good mental health? What support is available from CAMHS? And what conditions are most common in looked after and adopted children?
This guide translates the theoretical concepts and research about children's mental health into straightforward language and practical advice. Taking a holistic and attachment-focused approach, it demonstrates how to understand children's background and current events, rather than focusing on diagnostic criteria and labels.
Who is this book for?
This guide is an essential read for those working with or looking after fostered and adopted children, helping the carer to recognise and understand a range of mental health issues and give the best support possible.
What you will find in this book
In Part 1 of the book, the authors explore:
why mental health difficulties are more prevalent in looked after children, including the importance of attachment and trauma;

how practitioners can gather crucial information to help understand a child's difficulties and plan how to meet their needs;

what legislation requires and what NICE guidelines recommend;

how best to support children, and what organisations may be able to help; and

how children's difficulties may impact on adopters and carers.
Part 2 focuses on common worrying behaviours and symptoms experienced by looked after children and young people, and provides more detailed information about:
anxiety and depression

attachment difficulties

attention difficulties and hyperactivity

behaviour and conduct problems

eating and sleeping problems

compulsive behaviour

post-traumatic stress

self-harm
Most importantly, throughout the guide, the authors provide vital practical advice on how social workers and others working within the children's care system UK-wide can actively help to safeguard and improve children's mental health.
CAPPE matrix: This book makes use of a CAPPE matrix to help with assessing and analysing children's mental health difficulties. As well as appearing in the book itself, the matrix can be found here.
'The book offers early evidence as to why looked after or adopted children may be at an increased risk of mental ill-health. Its main drive is to identify how early experiences and trauma can impact on mental health and wellbeing. The authors place a heavy emphasis on psychological support, a perspective I found particularly useful.'

Martin Gilbert, Senior Learning and Development Officer and approved mental health professional

Read the full review, published in Adoption & Fostering March 2019
The authors 
Dr Karen Aldred is a Consultant Clinical Psychologist in independent practice. She has worked for many years in NHS children's mental health services, including developing and clinically leading multidisciplinary services for looked after and adopted children. In partnership with local authorities, she has developed specialist fostering services and training for social care professionals.
Dr Helen Rodwell is a Consultant Clinical Psychologist and Certified Theraplay Practitioner in independent practice. She has previously worked within secure settings, Child and Adolescent Mental Health Services (CAMHS) and a specialist multidisciplinary NHS mental health service for looked after and adopted children.
Reviews
Reading this excellent book will help you appreciate just how complex, subtle and important supporting the development of good mental health is.
Sarah Brennan OBE, former Chief Executive of YoungMinds
A highly useful resource for those wishing to understand and support looked after and adopted children with mental health difficulties.
Kim Golding, Consultant Clinical Psychologist and author