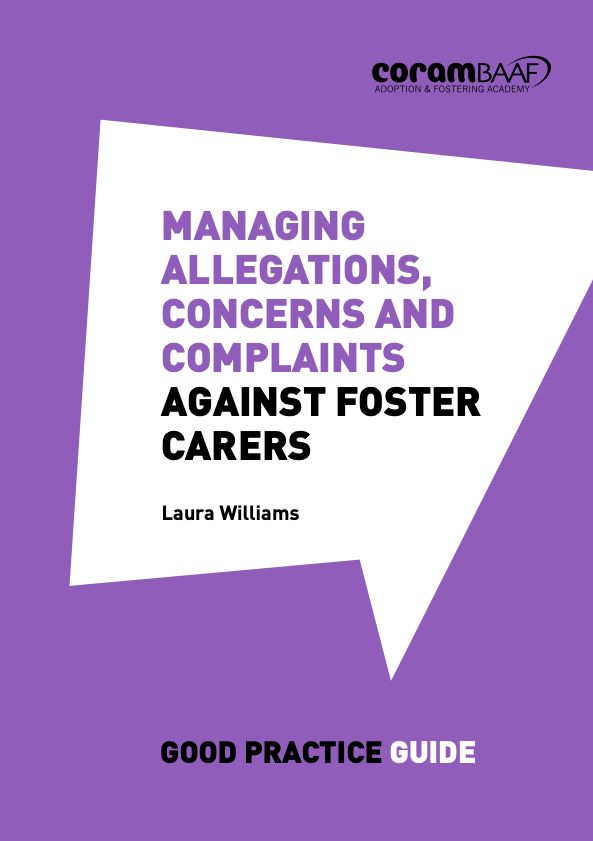 Managing allegations, concerns and complaints against foster carers
£18.95
While most fostered children live safely with their foster carers in loving, secure homes, there is always the possibility that a carer may have an allegation or complaint made against them, for example, by a child or birth relative. There are statutory procedures for investigation, but these are often difficult and delicate situations for fostering services, foster carers and social workers. 
Whether a matter presents as an allegation, concern or complaint, further enquiries may reveal a more serious picture than was first apparent. Conversely, a seemingly serious situation may be less worrying once placed in context. Research also highlights the impact of secondary trauma and compassion fatigue on foster carers' parenting capacity. Clearly, different responses are needed depending on the background of the case, and the challenge for practitioners is to assess every incident thoroughly, while maintaining a safeguarding focus and ensuring that carers are treated fairly and with respect.
Comprehensive, clear and authoritative, this practice guide is a key text for all workers involved in foster care. 
Who is this book for?
Comprehensive, clear and authoritative, this practice guide is a key text for social workers, managers, panel members, panel Chairs, reviewing officers and designated officers, throughout the UK.
What you will find in this book
This practice guide is designed to help practitioners and managers to successfully navigate the complex processes involved in allegations and complaints. Authoritative and thoughtful, it considers not just statutory procedures, but also provides valuable pointers to good practice for fostering staff. The guide explores: 
The differences between allegations, concerns and complaints
The legal and regulatory frameworks for investigation, across the UK
Corporate parenting: the role of leaders and managers in shaping practice
Good practice in assessing, supervising and reviewing foster carers, and seeking children's views
Important messages from research and case reviews 
Good practice when dealing with allegations, concerns and complaints
Practical ideas for social workers and carers to strengthen placements, promote safer caring and reduce the risk of mistaken or unfounded allegations
Moving forward following an allegation, whether substantiated or unsubstantiated 
By including the voices of children and foster carers from diverse backgrounds, the guide also underlines the importance of careful listening – as a range of views may help to achieve a safe, fair and proportionate response.
The author
Laura Williams qualified as a social worker in 1979 and has worked in child care, family support, safeguarding, adoption and fostering, along with participating in a number of research projects with the University of East Anglia and National Children's Bureau. Post-retirement, she now trains social workers in a range of subjects.