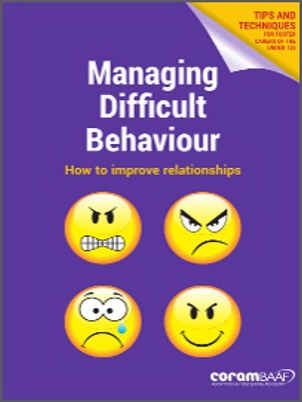 Managing difficult behaviour
£14.95
Would you like to develop a better relationship with the child you are caring for? Do you sometimes struggle to deal with your child's tantrums, rudeness or aggression? Does your child often play up to get your attention? Does your child sometimes wind you up until you feel desperate?
If you answer yes to just some of these questions, this book is for you.
Fostering is a challenging and important role. It changes children's lives, but it can make many and varied demands on foster carers. Some of the challenges arise from children presenting behaviours that can be difficult to deal with.
Managing difficult behaviour aims to provide foster carers with new skills to help them manage a child's behaviour and improve their relationship with him or her. It is full of useful tips, case examples and exercises.
The book does not provide all the answers – there are no "right" answers when dealing with the variety of ways that troubled children express their frustration, anger, stress and insecurity. But it does set out ways in which foster carers can help children, in their own way and in their own home.
The training outlined in Managing difficult behaviour is based on the Fostering changes programme set up at the Maudsley Hospital in London.
Who is this book for?
Foster carers looking for practical advice and tips on managing challenging behaviours in children under the age of 12, and improving their relationship.
What you will find in this book
The handbook addresses key areas including:
Being good at giving praise
Listening to and talking with your child
Using play to give positive attention
Using rewards and setting limits
Learning to be good at giving instructions
Using "ignoring" to improve behaviour
Helping children learn from the consequences of their actions
Using time-out and problem solving
Helping carers to care for themselves
Authors
This edition of Managing difficult behaviour draws from the 2014 edition of Fostering changes, authored by Clare Pallett, Kathy Blackeby, William Yule, Roger Weissman and Stephen Scott. Carolie Bengo and Kathy Blackeby have been most involved in the revision of this edition.
Kathy Blackeby has a social work background and has worked for many years with children and families before specialising in mental health. She was part of the team which developed the original Fostering Changes programme.
Caroline Bengo is a qualified social worker who specialises in working with looked after children, and supporting foster and adoptive families, working therapeutically and providing direct work and family work.
Eileen Fursland is a freelance writer who has written several titles for CoramBAAF. She also designs and delivers training sessions to help foster carers, adopters and social workers to meet the challenges posed by social networking.
Illustrator
Fran Orford's cartoons have been used in over 70 magazines and newspapers, including The Observer, Private Eye and The Telegraph. Before becoming a cartoonist, Fran set up and ran a Leaving Care Team for NCH in Halifax, West Yorkshire.
Reviews
This book teaches skills I have used in the past and intend to try at the appropriate time. I found some of the chapters extremely helpful and could see the logic of why they would work. The book was very easy to read, clear and had a little humour with cartoon illustrations. I found the real life experiences of foster carers putting into practice the skills really encouraging. This is a book I would recommend all carers read.
Rita Mistry, Foster carer, Foster Families magazine
This book covers themes of behaviour and their management, Although designed for foster carers, it could also be used for kinship carers who may need to rethink the way they respond to some difficult behaviours. In addition, the ideas in some sections could inform professionals in parenting assessments.
Lynne Barry, former children's guardian and now independent social worker, Seen and Heard 19:1