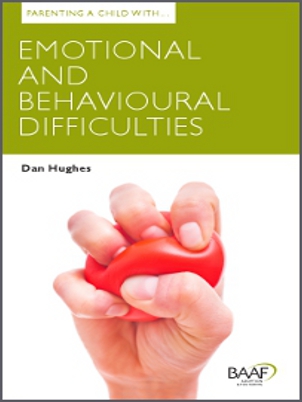 Parenting Matters: Parenting a child with emotional and behavioural difficulties
£10.95
Due to their early experiences of loss and lack of care, many adopted and looked after children experience emotional and behavioural difficulties. If you are looking to adopt a child, this guide will give you practical and realistic information on what these difficulties may be. It also covers their symptoms, prognosis and treatment.
This book provides expert knowledge coupled with facts, figures and guidance presented in a straightforward and accessible style.
A foster carer and adoptive parents also describe what it is like to parent a child with emotional and behavioural difficulties, sharing their parenting experience and offering useful advice.
This book is part of CoramBAAF's Parenting Matters series which explores many of the health conditions commonly diagnosed in looked after children.
See more titles in this series.
Who is this book for?
A useful book for adopters, those thinking about adopting, foster carers, social work practitioners and all those involved in the care of looked after children. The combination of expert information and first-hand experience will help readers gain knowledge and understanding and to make informed decisions.
Readers may also be interested in Why can't I be good? - a book for any child aged seven to 11 whose behaviour frequently gets them into trouble, or who knows someone who can't be good. 
What you will find in this book
The first half of the book starts with a short explanation of emotional and behavioural difficulties and what these terms mean for children.
The book then looks at:
different ways in which emotional and behavioural difficulties can affect child development
the issues these conditions raise with regard to educational provision for affected children
where and how to get help for children with these issues
The second half of the book tells the stories of Lorna Miles and Jess and Paul Gethin. It includes their experiences of parenting children with emotional and behavioural difficulties and how this affected day-to-day family life.
Jess and Paul Gethin adopted five brothers and sisters: Sophie, Ben, Lucy, Harry and Daniel. They were told that the children's birth parents had learning difficulties and that all of the children had witnessed considerable violence and been badly neglected. At the time of adoption, the exact implications of this on the children were not known.
'School was a challenge for us all, teachers included. For the children there were so many perceived threats – in the early days they would hide under tables, throw toys, bring things home that weren't theirs, shout, swear and hit other children. As parents we would do the "walk of shame" across the playground as their class teachers came out and made eye contact that invariably said 'Your child has been terrible and I need to talk to you…again!' As the children grew, so did the challenges. The Lego piece brought home in a pocket became a mobile phone squirreled away in a bag; the hiding under a table became running out of class or even out of school.'
Author
Dr Dan Hughes has been a clinician specialising in the treatment of children and young people with severe emotional and behavioural difficulties for most of his professional life. He developed a treatment model that he calls Dyadic Developmental Psychotherapy – also known as Attachment-Focused Family Therapy – for which he currently provides therapist training across the US, UK and Canada.
Reviews
This book is fantastic. It explains developmental trauma in a really accessible way and provides guidance on how to manage a child with developmental trauma. It is clearly, succinctly and coherently written, very accessible for professionals, foster carers, adopters etc. It is also very quick to read – always a bonus in a busy life! A foster carer and an adopter also write a chapter each at the end which is really helpful in terms of applying the theory bit.
Myra Baker, five stars, Amazon.co.uk
The author's knowledge and experience about the subject is manifest but he also has the skills to make the theory and concepts accessible, relating them to everyday life with troubled children. The author adopts a compassionate stance throughout and encourages a deeper understanding of behaviours, rather than merely providing management techniques.
Catherine Webley, independent social worker and children's guardian, Seen and Heard
As someone who has been a foster carer for more than a decade and now about to adopt a 6-year-old child I can honestly say this book is worth its weight in gold. It makes complete sense to me and provides a really useful way of thinking about and actually living with parenting a child with emotional and behavioural difficulties.
Shenat, five stars, Amazon.co.uk