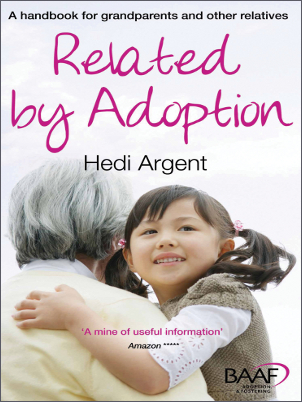 Related by adoption
£8.50
When a child is adopted into a new family, grandparents and other family members can play a really important part in the life of the child.
This useful handbook introduces grandparents-to-be and other relatives to information about adoption today. It offers some facts about the children who need to be adopted and discusses how the wider family can support and be involved in building a family through adoption.
The book provides answers to important questions adoptive grandparents will be asking themselves, such as: can I be a grandparent to unrelated children and will I be able to love them; will an older child learn to love their new family; or how will the child fit in with existing grandchildren, nephews and nieces?
The stories of adopted children and their relatives are at the heart of this book.
Who is this book for?
This is a must-have book for close family members of new adoptive parents or those planning to adopt.
What you will find in this book
Facts about the children needing adoption, processes and procedures
How the wider family can support and be involved in building a family through adoption
Quotes and snippets from family stories, including contributions from grandparents.
'We get on well with all our grandchildren. We see them most weeks and I suppose we do spoil them. When our daughter adopted the twins – they were just four years old, the same as our youngest grandson – we got all our grandchildren together and worked out how to make the twins feel they belonged. The children had some good ideas and it made them include the twins straight away. My oldest grand-daughter was nearly 15 and she kind of took charge. I think the twins learned about grandparents from the other children. They soon expected special treats along with the rest of them but you could see that it really made them happy.' Grandparent with nine grandchildren, two adopted
Author
Hedi Argent is an independent adoption consultant, trainer and freelance writer. She has written and edited many books for CoramBAAF including Adopting a brother or sister, Dealing with disruption and a guide for children about kinship care, Kinship care: what it is and what it means.
Reviews
The book is very small and slim, and could be read very quickly. I bought it to give to my mum and my in-laws to help manage their expectations about adoption and what may happen in the future. The book gently guides relatives through attachment issues, and how to best support newly adoptive parents and their child. The length of the book actually works in its favour: if I'm giving someone a book to help them understand what my husband and our future child are going through, it may be offputting to give them a huge long book.
Five stars, Amazon.co.uk
This little book is essential reading if your son or daughter is thinking of adopting. From a grandparent's point of view, this book answered questions I didn't even realise I would think of asking.
D. Gard, five stars, Amazon.co.uk