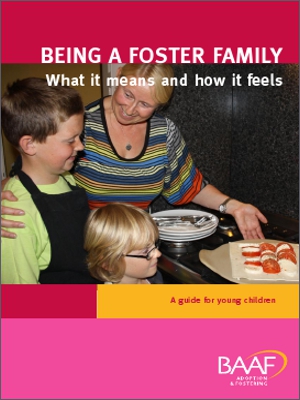 Being a foster family: what it means and how it feels
£3.95
What exactly is fostering, and why are we doing it? Will the foster children be my brothers and sisters, and how many of them will there be? What if we don't get on? These and other questions on what it's like to become a foster family and what it means for a child are covered in this booklet for children and young people.
Colourful, vividly illustrated and presented in accessible and jargon-free language, this booklet provides an easily understandable introduction to the subject.
This short, colourful booklet is part of CoramBAAF's series of publications for children and young people, which aim to explain concepts in adoption and fostering that they may find difficult to understand.
Who is this book for?
Children whose family is considering, or is about to become, a foster family.
What you will find in this book
Short, vividly illustrated and presented in accessible and jargon-free language, this booklet explains the concepts in simple terms. Short quizzes and quotes from children provide added interest.
Author
Hedi Argent is an independent adoption consultant, trainer and freelance writer. She has written and edited many books for CoramBAAF including Adopting a brother and sister, Dealing with disruption and Kinship care.
Reviews
This is a fantastic book for birth children whose families are starting the fostering process. Easy to understand and answers the big questions. This is great for preparing birth children to think about different scenarios, helping to make the whole process fun rather than scary or daunting. I would recommend reading this book with your birth children to help prepare them for what's ahead.
Foster Families magazine
In this booklet questions are answered fairly and honestly. Lots of photos, diagrams and drawings help make the information clear, and there are further discussion questions along the way. It is an excellent (and unusual) idea to have a booklet aimed at children who live in families who foster, and this should be a good introduction to the whole idea.
healthybooks.org.uk