Primary tabs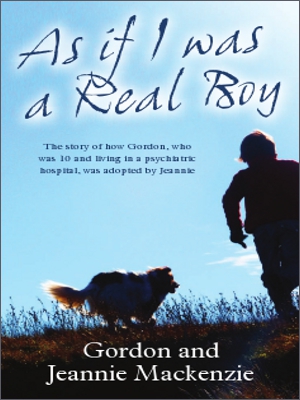 As if I was a real boy
£8.95
When Jeannie adopted Gordon, their new family would not be without its problems. Gordon was 10 years old, and had been living in a psychiatric hospital for three years, with undiagnosed mental health issues. Jeannie was adopting as a single parent, with all the challenges this can bring. But together, they built a loving family.
In this moving account, published as part of the Our Story series, mother and son look back on how the adoption came to be, and how both their lives were changed for the better.
Who is this book for?
Anyone who is interested in the adoption experience and how this feels for the people involved.
What you will find in this book
'Oh, how I wish I could tell you in words how important it was for me to have my own room! I loved the way I could stretch my imagination in my room and be anywhere in the world. I needed this space to heal and start becoming a boy again and not just someone who was trying to survive. My bedroom was somewhere that could reflect my personality and show people who I really was inside. Letting people into my room was my way to show them that I trusted them.'
'Although Gordon was only 10, he was strong and fast, and there was no way I could have caught him or carried him if he had been serious about resisting, and I drew some comfort from that fact. I dumped him on his bed, and hugged him very tight. 'I am not ever going to let you run away,' I said firmly. 'You are my son now and I am your mum. I don't care whether you hate me or not. This is your home.'
Authors
Gordon Mackenzie was born in Scotland and adopted at the age of 10. He now lives in a small town in the Canadian prairies and has two children.
Jeannie Mackenzie was born in Scotland and has no intention of leaving it. She has been a teacher and worked at a senior level in one of Scotland's leading education authorities, and has published in the field of education.