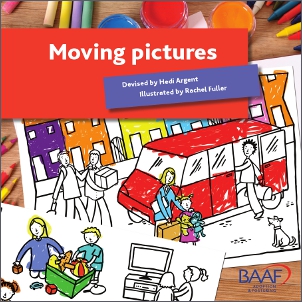 Moving pictures
£9.95
Children who cannot live with their birth families will often have had a number of moves during their lives, even before they are placed for adoption or permanent foster care. These children will have probably been introduced to the ideas of permanence and "forever families", but change can still trigger anxiety and uncertainty.
Moving pictures is designed to help children explore ideas of moving and permanence. It consists of a CD-ROM which contains 16 black and white line drawings, illustrating various aspects of the move to permanence. They can be printed out for children to colour in and are designed to spark discussion of the child's thoughts, wishes and hopes around the idea of moving to a new family. They can be used to prepare a child for a specific move or as part of life story work.
The accompanying book provides guidelines, advice and suggested questions for the practitioner or carer working with the child.
Who is this book for?
Designed for social workers and carers undertaking direct work with children aged four and above.
What you will find in this book
The book is designed to aid discussion between children and adults on moving and permanence. The CD-ROM contains drawings that cover a range of aspects of this, including:
Different families and home
Cooking and eating
Helping each other
Family rules
Playing together
Going to school
Arguments in the family
Loving and hugging
Giving and celebrating
Author
Hedi Argent is an independent adoption consultant, trainer and freelance writer. She has written and edited many books for CoramBAAF including Adopting a brother or sister, Dealing with disruption and a guide for children about kinship care, Kinship care: what it is and what it means.
Illustrator
Rachel Fuller specialises in children's books, developing and illustrating novelty packages as well as young fiction and educational materials. She has also illustrated A safe place for Rufus, Elfa and the box of memories and Spark learns to fly.
Reviews
Children who have had troubled lives, possibly moving between several families, often find it difficult to settle once they are adopted into a 'forever family'. These pictures are intended to help the moving in process, and the sensitive questions that accompany each picture will open discussion between carer and child. There are guidelines to help the carers make the most of the package. This could be of real use to children in a situation of transition, and the idea of using pictures as a catalyst for discussion is a good one.
Healthybooks.co.uk