Foster Care Fortnight organised by The Fostering Network starts on 14 May 2018 and highlights the ongoing need to approve more foster carers. CoramBAAF wholeheartedly supports this campaign.
The recent report on 'Foster Care in England' emphasised the fact that for the most part fostering is a success story, and there are numerous stories from children currently being fostered, or adults who were fostered, to back that message. Equally there are many stories from foster carers about how rewarding it has been for them, and how they have formed life-long loving relationships with children in their care.
That is not the whole story however, and for some children and young people their experiences are less positive. In part that may be because they have not been placed with the right foster carers, in the right place and at the right time, who can fully meet their needs. This is particularly so for teenagers who may end up having numerous placement changes, and where children have been separated from siblings simply because of the lack of foster carers who are able to take on the care of sibling groups.
Foster carers are needed to care for a range of children, with the greatest need being for foster carers for older children, sibling groups and disabled children. There is also a need for people who are able to foster the parents along with their children (usually mothers and babies), and for those interested in looking after unaccompanied asylum seeking young people.
Fostering is challenging but immensely rewarding, and plays a vital role in supporting children in need. It is open to individuals from all walks of life: there is no 'right' background a person must have in order to become a foster carer. If you are interested in becoming a foster carer, or just want to know more, CoramBAAF produce an excellent book called 'Thinking about Fostering' and have a range of important information available on our website.
           - Paul Adams, CoramBAAF Fostering Development Consultant
To mark Fostering Fortnight 2018 we are publishing a series of personal fostering stories. Click through beneath to read them: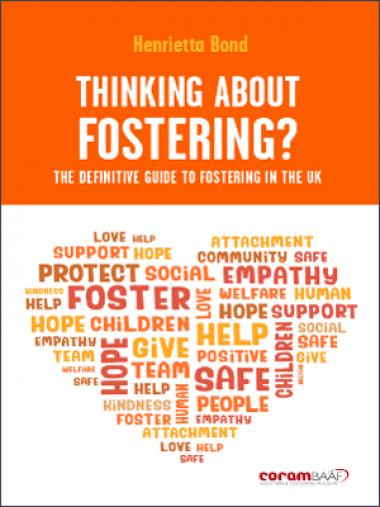 Thinking about fostering?
Do you feel like you have space in your life to look after a child or a group of brothers and sisters? Are you unsure whether you could foster, or even what the process entails? Do you want to know more about the kind of children who need foster placements? Then this book is for you.
See more