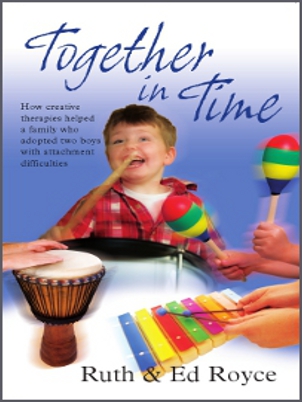 Together in time
£7.95
Published as part of the Our Story series, this is the story of Ruth and Ed Royce's journey from childlessness to celebrating as a family. From a dual perspective, each with their own anxieties, expectations and vulnerabilities, they look back on their decision to adopt, to the fear that their family was falling apart, to their experience of music and art therapy, and then on to their decision to adopt a second time. Would they get to their sons' deep-seated problems with drums and tambourines? They weren't so sure…
In this inspiring account, the Royces record their feelings about the boys and each other, and show how therapy helped them come together as a family.
Who is this book for?
Anyone who is interested in the adoption experience and how this can affect parents and children, and particularly in the effect of therapy for attachment disorders.
What you will find in this book
Below are extracts taken from the book:
'The music seemed to cut through Joe's anger. We had to work together, and he was almost forced to join in with the rhythm. Joe forgot his rage and would let himself go. The physical exertion of bashing the drum or trying to change the shape of the cymbals got rid of his frustration and made him feel good. It helped on all levels.
I remember thinking that Joe was like a computer using one type of operating system when everyone else was using another. As a result, no matter what we said to him, however many files we sent, he could not read any of them. For that short time, when we played music in a group, both operating systems worked together. We could understand each other. It was a sort of window that only opened when we played music. Trouble was, when the music stopped the link was broken. I hoped that if we got through to him for that short period, in the end he would realise it was better for him to work with us than against us.'
Authors
Ruth and Ed have been married for 23 years, and live in the Welsh Marches with their two sons Joe and Jack, and Monty the cat.